野黄芩素-7-O-葡萄糖苷
Scutellarein-7-O-glucoside
产品编号
CFN95082
CAS编号
26046-94-6
分子式 = 分子量
C21H20O11 = 448.4
产品纯度
>=98%
物理属性
Yellow powder
化合物类型
Flavonoids
植物来源
The herbs of Cirsium japonicum
ChemFaces的产品在影响因子大于5的优秀和顶级科学期刊中被引用
| | | | | |
| --- | --- | --- | --- | --- |
| 产品名称 | 产品编号 | CAS编号 | 包装 | QQ客服 |
| 野黄芩素-7-O-葡萄糖苷 | CFN95082 | 26046-94-6 | 1mg | QQ客服:1413575084 |
| 野黄芩素-7-O-葡萄糖苷 | CFN95082 | 26046-94-6 | 5mg | QQ客服:1413575084 |
| 野黄芩素-7-O-葡萄糖苷 | CFN95082 | 26046-94-6 | 10mg | QQ客服:1413575084 |
| 野黄芩素-7-O-葡萄糖苷 | CFN95082 | 26046-94-6 | 20mg | QQ客服:1413575084 |
1. 在您收到产品后请检查产品。如无问题,请将产品存入冰霜并且样品瓶保持密封,产品可以存放长达24个月(2-8摄氏度)。

2. 只要有可能,产品溶解后,您应该在同一天应用于您的实验。 但是,如果您需要提前做预实验,或者需要全部溶解,我们建议您将溶液以等分试样的形式存放在-20℃的密封小瓶中。 通常,这些可用于长达两周。 使用前,打开样品瓶前,我们建议您将产品平衡至室温至少1小时。

3. 需要更多关于溶解度,使用和处理的建议? 请发送电子邮件至:service@chemfaces.com
订购流程
1. 在线订购
请联系我们QQ客服


2. 电话订购
请拨打电话:
027-84237683 或 027-84237783


3. 邮件或传真订购
发送电子邮件到: manager@chemfaces.com 或
发送传真到:027-84254680


提供订购信息
为了方便客户的订购,请需要订购ChemFaces产品的客户,在下单的时候请提供下列信息,以供我们快速为您建立发货信息。
1. 产品编号(CAS No.或产品名称)
2. 发货地址
3. 联系方法 (联系人,电话)
4. 开票抬头 (如果需要发票的客户)
5. 发票地址(发货地址与发票地址不同)
发货时间
1. 付款方式为100%预付款客户,我们将在确认收到货款后当天或1-3个工作日发货。

2. 付款方式为月结的客户,我们承诺在收到订单后当天或1-3个工作日内发货。

3. 如果客户所需要的产品,需要重新生产,我们有权告知客户,交货时间需要延期。
ChemFaces的产品在许多优秀和顶级科学期刊中被引用
我们的产品现已经出口到下面的研究机构与大学,并且还在增涨
Complutense University of Madrid (Spain)
Sant Gadge Baba Amravati University (India)
Medical University of Gdansk (Poland)
Uniwersytet Medyczny w ?odzi (Poland)
Kyushu University (Japan)
Universidade Federal de Santa Catarina (Brazil)
University of Sao Paulo (Brazil)
University of Wollongong (Australia)
MTT Agrifood Research Finland (Finland)
University of Limpopo (South Africa)
Medizinische Universit?t Wien (Austria)
Cancer Research Initatives Foundation(CARIF) (Malaysia)
University of Padjajaran (Indonesia)
Guangzhou Institutes of Biomedicine and Health (China)
国外学术期刊发表的引用ChemFaces产品的部分文献
Description:
Scutellarein-7-O-glucoside inhibites MMP-2 activity.
Targets:
MMP
In vitro:

Microb Cell Fact. 2016 Aug 4;15(1):134.
Engineering Saccharomyces cerevisiae with the deletion of endogenous glucosidases for the production of flavonoid glucosides.[Pubmed: 27491546 ]
Glycosylation of flavonoids is a promising approach to improve the pharmacokinetic properties and biological activities of flavonoids. Recently, many efforts such as enzymatic biocatalysis and the engineered Escherichia coli biotransformation have increased the production of flavonoid glucosides. However, the low yield of flavonoid glucosides can not meet the increasing demand for human medical and dietary needs. Saccharomyces cerevisiae is a generally regarded as safe (GRAS) organism that has several attractive characteristics as a metabolic engineering platform for the production of flavonoid glucosides. However, endogenous glucosidases of S. cerevisiae as a whole-cell biocatalyst reversibly hydrolyse the glucosidic bond and hinder the biosynthesis of the desired products. In this study, a model flavonoid, scutellarein, was used to exploit how to enhance the production of flavonoid glucosides in the engineered S. cerevisiae.
METHODS AND RESULTS:
To produce flavonoid glucosides, three flavonoid glucosyltransferases (SbGTs) from Scutellaria baicalensis Georgi were successfully expressed in E. coli, and their biochemical characterizations were identified. In addition, to synthesize the flavonoid glucosides in whole-cell S. cerevisiae, SbGT34 was selected for constructing the engineering yeast. Three glucosidase genes (EXG1, SPR1, YIR007W) were knocked out using homologous integration, and the EXG1 gene was determined to be the decisive gene of S. cerevisiae in the process of hydrolysing flavonoid glucosides. To further enhance the potential glycosylation activity of S. cerevisiae, two genes encoding phosphoglucomutase and UTP-glucose-1-phosphate uridylyltransferase involved in the synthetic system of uridine diphosphate glucose were over-expressed in S. cerevisiae. Consequently, approximately 4.8 g (1.2 g/L) of scutellarein-7-O-glucoside (S7G) was produced in 4 L of medium after 54 h of incubation in a 10-L fermenter while being supplied with ~3.5 g of scutellarein.
CONCLUSIONS:
The engineered yeast harbouring SbGT with a deletion of glucosidases produced more flavonoid glucosides than strains without a deletion of glucosidases. This platform without glucosidase activity could be used to modify a wide range of valued plant secondary metabolites and to explore of their biological functions using whole-cell S. cerevisiae as a biocatalyst.
Phytother Res. 2014 Sep;28(9):1399-405.
The influence of selected flavonoids from the leaves of Cirsium palustre (L.) Scop. on collagen expression in human skin fibroblasts.[Pubmed: 24643916 ]
Ten flavonoids belonging to the subclasses of flavones, flavanones and aurones were isolated from methanolic extract of Cirsium palustre leaves after multistep chromatographic separation. Their structures were elucidated with spectroscopic methods.
METHODS AND RESULTS:
All compounds, except for luteolin 7-O-glucoside, were isolated for the first time. Four compounds-eriodictyol 7-O-glucoside (6), 6-hydroxyluteolin 7-O-glucoside (11), scutellarein-7-O-glucoside (12) and pedalitin (14)-were tested for their effect on collagen expression in normal human dermal fibroblasts. Among them, compound 11 at 40 μM and compound 14, at all concentrations used (1, 20, 40 μM), significantly enhanced the level of total collagen secreted into the medium. Furthermore, compound 11 significantly stimulated type I collagen expression, whereas compound 14 activated type I and III collagen expression at the mRNA level, depending on concentration. MMP-2 activity was inhibited by all study compounds, with the greatest effect recorded with compound 14 at 20 μM. The lack of effect on collagen content in the medium of compound 6- and compound 12-treated cells, besides an increase in COL1A1 and COL1A2 expression, might be caused by diminished expression of HSP47 gene, resulting in decreased procollagen secretion.
CONCLUSIONS:
Future study of compounds 11 and 14 for their potential therapeutic use in conditions connected with collagen biosynthesis deficiency is required.
| | | | | | |
| --- | --- | --- | --- | --- | --- |
| | 1 mg | 5 mg | 10 mg | 20 mg | 25 mg |
| 1 mM | 2.2302 mL | 11.1508 mL | 22.3015 mL | 44.603 mL | 55.7538 mL |
| 5 mM | 0.446 mL | 2.2302 mL | 4.4603 mL | 8.9206 mL | 11.1508 mL |
| 10 mM | 0.223 mL | 1.1151 mL | 2.2302 mL | 4.4603 mL | 5.5754 mL |
| 50 mM | 0.0446 mL | 0.223 mL | 0.446 mL | 0.8921 mL | 1.1151 mL |
| 100 mM | 0.0223 mL | 0.1115 mL | 0.223 mL | 0.446 mL | 0.5575 mL |
* Note:
If you are in the process of experiment, it's need to make the dilution ratios of the samples. The dilution data of the sheet for your reference. Normally, it's can get a better solubility within lower of Concentrations.
部分图片展示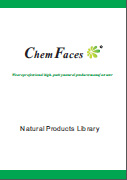 联系方式

电机:027-84237783
传真:027-84254680
在线QQ: 1413575084
E-Mail:manager@chemfaces.com

湖北省武汉沌口经济技术开区车城南路83号1号楼第三层厂房