甲基橙皮甙; 甲基橙皮苷
Methyl hesperidin
产品编号
CFN99584
CAS编号
11013-97-1
分子式 = 分子量
C29H36O15 = 624.59
产品纯度
>=98%
物理属性
Powder
化合物类型
Flavonoids
植物来源
The herbs of Hypericurn monogynum L.
ChemFaces的产品在影响因子大于5的优秀和顶级科学期刊中被引用
| | | | | |
| --- | --- | --- | --- | --- |
| 产品名称 | 产品编号 | CAS编号 | 包装 | QQ客服 |
| 甲基橙皮甙; 甲基橙皮苷 | CFN99584 | 11013-97-1 | 10mg | QQ客服:1413575084 |
| 甲基橙皮甙; 甲基橙皮苷 | CFN99584 | 11013-97-1 | 20mg | QQ客服:1413575084 |
| 甲基橙皮甙; 甲基橙皮苷 | CFN99584 | 11013-97-1 | 50mg | QQ客服:1413575084 |
| 甲基橙皮甙; 甲基橙皮苷 | CFN99584 | 11013-97-1 | 100mg | QQ客服:1413575084 |
1. 在您收到产品后请检查产品。如无问题,请将产品存入冰霜并且样品瓶保持密封,产品可以存放长达24个月(2-8摄氏度)。

2. 只要有可能,产品溶解后,您应该在同一天应用于您的实验。 但是,如果您需要提前做预实验,或者需要全部溶解,我们建议您将溶液以等分试样的形式存放在-20℃的密封小瓶中。 通常,这些可用于长达两周。 使用前,打开样品瓶前,我们建议您将产品平衡至室温至少1小时。

3. 需要更多关于溶解度,使用和处理的建议? 请发送电子邮件至:service@chemfaces.com
订购流程
1. 在线订购
请联系我们QQ客服


2. 电话订购
请拨打电话:
027-84237683 或 027-84237783


3. 邮件或传真订购
发送电子邮件到: manager@chemfaces.com 或
发送传真到:027-84254680


提供订购信息
为了方便客户的订购,请需要订购ChemFaces产品的客户,在下单的时候请提供下列信息,以供我们快速为您建立发货信息。
1. 产品编号(CAS No.或产品名称)
2. 发货地址
3. 联系方法 (联系人,电话)
4. 开票抬头 (如果需要发票的客户)
5. 发票地址(发货地址与发票地址不同)
发货时间
1. 付款方式为100%预付款客户,我们将在确认收到货款后当天或1-3个工作日发货。

2. 付款方式为月结的客户,我们承诺在收到订单后当天或1-3个工作日内发货。

3. 如果客户所需要的产品,需要重新生产,我们有权告知客户,交货时间需要延期。
ChemFaces的产品在许多优秀和顶级科学期刊中被引用
我们的产品现已经出口到下面的研究机构与大学,并且还在增涨
Instituto de Investigaciones Agropecuarias (Chile)
University of Virginia (USA)
Chang Gung University (Taiwan)
Melbourne University (Australia)
Monash University Sunway Campus (Malaysia)
Universitas islam negeri Jakarta (Indonesia)
VIT University (India)
Instytut Nawozów Sztucznych w Pu?awach (Poland)
Pennsylvania State University (USA)
Medical University of Gdansk (Poland)
John Innes Centre (United Kingdom)
Colorado State University (USA)
Universiti Sains Malaysia (Malaysia)
Universit?t Basel (Switzerland)
国外学术期刊发表的引用ChemFaces产品的部分文献
Description:
Methyl hesperidin has potentiating effect on coronary vasodilation induced by adenosine or related compounds, It caused inhibition of nitrendipine transport in the ileum and jejunum, but not in the duodenum. Methyl hesperidin exerts no obvious toxic effects in mice of either sex when administered at a level as high as 5.0% in the diet.
In vitro:

Drug Metabol Drug Interact. 2008;23(3-4):299-310.
Influence of some bioflavonoids on the transport of nitrendipine.[Pubmed: 19326773]
Flavonoids form a large class of phenolic substances widely distributed in nature and exhibit several biological effects. P-glycoprotein is part of a large family of efflux transporters found in the gut, gonads and other organs.
METHODS AND RESULTS:
Male albino rats were used for this study. The whole small intestine was flushed with 50 ml of ice-cold saline after sacrificing the animal with an overdose of pentobarbital. The small intestine was isolated and divided into duodenum, jejunum and ileum. Each segment was everted, a 5-cm long sac was prepared, 1 ml of nitrendipine solution was introduced into the everted sac (serosal side), and both ends of the sac were ligated tightly. The sac containing nitrendipine solution was immersed in 30 ml of Dulbecco's phosphate buffer solution (D-PBS) containing 25 mM glucose and the same concentration of different bioflavonoids, viz., diosmin, quercetin, chrysin, methyl hesperidin and gossypin, was introduced into the mucosal side. Transport of nitrendipine from serosal to mucosal surfaces across the intestine was determined by collecting samples from the mucosal medium periodically at different intervals: 0, 10, 20, 30, 60, 90 and 120 minutes. The samples were analyzed by HPLC. Diosmin and quercetin decreased the transport rate of nitrendipine to nearly the same extent in all regions. Chrysin and gossypin decreased the transport rate of nitrendipine to a greater extent in the ileum than in the duodenum and jejunum. Methyl hesperidin caused inhibition of nitrendipine transport in the ileum and jejunum, but not in the duodenum.
CONCLUSIONS:
All bioflavonoids, i.e., quercetin, diosmin, methyl hesperidin, gossypin and chrysin, decreased the transport of nitrendipine, a P-gp substrate in the rat intestine. The highest expression of P-gp was found in the ileum followed by the jejunum and duodenum.

In vivo:

Food Chem Toxicol. 1990 Sep;28(9):613-8.
Carcinogenicity study of methyl hesperidin in B6C3F1 mice.[Pubmed: 2272558]

METHODS AND RESULTS:
A long-term carcinogenicity study of methyl hesperidin, a compound of the vitamin P group, was carried out in B6C3F1 mice receiving dietary concentrations of 0, 1.25 or 5%. Administration was continued for 96 wk and then the mice were maintained on basal diet for an additional 8 wk. Growth retardation during the experiment with final changes in organ weights were observed in females given the 1.25% dose of methyl hesperidin and in both sexes receiving the 5.0% treatment. However, no biologically significant effects were evident with respect to mortality or clinical signs. Furthermore, treatment with methyl hesperidin did not result in any changes in haematology, clinical chemistry and urinalysis data. On histological examination, no significant alteration of non-neoplastic and neoplastic lesion incidence was observed in treated mice.
CONCLUSIONS:
The results thus demonstrated that methyl hesperidin lacked any carcinogenicity for B6C3F1 mice in the 96-wk feeding regimen used in this study.
| | | | | | |
| --- | --- | --- | --- | --- | --- |
| | 1 mg | 5 mg | 10 mg | 20 mg | 25 mg |
| 1 mM | 1.6011 mL | 8.0053 mL | 16.0105 mL | 32.021 mL | 40.0263 mL |
| 5 mM | 0.3202 mL | 1.6011 mL | 3.2021 mL | 6.4042 mL | 8.0053 mL |
| 10 mM | 0.1601 mL | 0.8005 mL | 1.6011 mL | 3.2021 mL | 4.0026 mL |
| 50 mM | 0.032 mL | 0.1601 mL | 0.3202 mL | 0.6404 mL | 0.8005 mL |
| 100 mM | 0.016 mL | 0.0801 mL | 0.1601 mL | 0.3202 mL | 0.4003 mL |
* Note:
If you are in the process of experiment, it's need to make the dilution ratios of the samples. The dilution data of the sheet for your reference. Normally, it's can get a better solubility within lower of Concentrations.
部分图片展示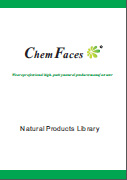 联系方式

电机:027-84237783
传真:027-84254680
在线QQ: 1413575084
E-Mail:manager@chemfaces.com

湖北省武汉沌口经济技术开区车城南路83号1号楼第三层厂房