圣草次甙; 圣草次苷
Eriocitrin
产品编号
CFN99718
CAS编号
13463-28-0
分子式 = 分子量
C27H32O15 = 596.53
产品纯度
>=98%
物理属性
Powder
化合物类型
Flavonoids
植物来源
The fruits of Citrus sinensis (L.) Osbeck
ChemFaces的产品在影响因子大于5的优秀和顶级科学期刊中被引用
| | | | | |
| --- | --- | --- | --- | --- |
| 产品名称 | 产品编号 | CAS编号 | 包装 | QQ客服 |
| 圣草次甙; 圣草次苷 | CFN99718 | 13463-28-0 | 10mg | QQ客服:3257982914 |
| 圣草次甙; 圣草次苷 | CFN99718 | 13463-28-0 | 20mg | QQ客服:3257982914 |
| 圣草次甙; 圣草次苷 | CFN99718 | 13463-28-0 | 50mg | QQ客服:3257982914 |
| 圣草次甙; 圣草次苷 | CFN99718 | 13463-28-0 | 100mg | QQ客服:3257982914 |
1. 在您收到产品后请检查产品。如无问题,请将产品存入冰霜并且样品瓶保持密封,产品可以存放长达24个月(2-8摄氏度)。

2. 只要有可能,产品溶解后,您应该在同一天应用于您的实验。 但是,如果您需要提前做预实验,或者需要全部溶解,我们建议您将溶液以等分试样的形式存放在-20℃的密封小瓶中。 通常,这些可用于长达两周。 使用前,打开样品瓶前,我们建议您将产品平衡至室温至少1小时。

3. 需要更多关于溶解度,使用和处理的建议? 请发送电子邮件至:service@chemfaces.com
订购流程
1. 在线订购
请联系我们QQ客服


2. 电话订购
请拨打电话:
027-84237683 或 027-84237783


3. 邮件或传真订购
发送电子邮件到: manager@chemfaces.com 或
发送传真到:027-84254680


提供订购信息
为了方便客户的订购,请需要订购ChemFaces产品的客户,在下单的时候请提供下列信息,以供我们快速为您建立发货信息。
1. 产品编号(CAS No.或产品名称)
2. 发货地址
3. 联系方法 (联系人,电话)
4. 开票抬头 (如果需要发票的客户)
5. 发票地址(发货地址与发票地址不同)
发货时间
1. 付款方式为100%预付款客户,我们将在确认收到货款后当天或1-3个工作日发货。

2. 付款方式为月结的客户,我们承诺在收到订单后当天或1-3个工作日内发货。

3. 如果客户所需要的产品,需要重新生产,我们有权告知客户,交货时间需要延期。
ChemFaces的产品在许多优秀和顶级科学期刊中被引用
我们的产品现已经出口到下面的研究机构与大学,并且还在增涨
Kamphaengphet Rajabhat University (Thailand)
Universite de Lille1 (France)
University of Sao Paulo (Brazil)
University of Dicle (Turkey)
Leibniz Institute of Plant Biochemistry (Germany)
Celltrion Chemical Research Institute (Korea)
Shanghai Institute of Organic Chemistry (China)
Lund University (Sweden)
Griffith University (Australia)
University of Vigo (Spain)
Universit?t Basel (Switzerland)
University of Pretoria (South Africa)
Worcester Polytechnic Institute (USA)
Yale University (USA)
国外学术期刊发表的引用ChemFaces产品的部分文献
Description:
Eriocitrin is powerful antioxidative flavonoid, it can prevent oxidative damages caused by acute exercise-induced oxidative stress, it also has lipid-lowering effect in rats on a high-fat and high-cholesterol diet. Eriocitrin is a potent inhibitor of human carbonic anhydrase VA isozyme.
Targets:
LDL | ATP synthase
In vitro:

J. Food Sci., 2006, 71(71):S633–S7.
Lipid-Lowering Effect of Eriocitrin, the Main Flavonoid in Lemon Fruit, in Rats on a High-Fat and High-Cholesterol Diet[Reference: WebLink]
Eriocitrin (eriodictyol 7-O-β-rutinoside) is the main flavonoid in lemon fruit.
METHODS AND RESULTS:
In this study, Eriocitrin was investigated for its lowering effect on serum and hepatic lipids in high-fat and high-cholesterol fed rats. Rats in the control group (N = 6) were fed a 20% lard and 1% cholesterol diet for 21 d, and rats in the 0.35% Eriocitrin group (N = 6) and 0.70% Eriocitrin group (N = 6) were fed a diet supplemented with Eriocitrin 0.35% and 0.70%, respectively. The content of hepatic total cholesterol and triglyceride in the Eriocitrin group was no different from that of the control group. The total cholesterol, VLDL+LDL, triglyceride, and phospholipid in the serum of the 0.35% Eriocitrin group showed significantly lower concentrations than the control group (P < 0.05), although there was no difference in the HDL concentrations among the groups. The lowering effect of Eriocitrin for serum total cholesterol was thought to be caused by a decrease in VLDL+LDL.
CONCLUSIONS:
The 0.35% Eriocitrin group was shown to have a significant increase in excretion of fecal bile acid (P < 0.05) and a tendency for enhanced hepatic m-RNA levels of LDL receptor in comparison with the control group.
Cancer Chemother Pharmacol . 2016 Dec;78(6):1143-1150.
Eriocitrin from lemon suppresses the proliferation of human hepatocellular carcinoma cells through inducing apoptosis and arresting cell cycle[Pubmed: 27766389]
Abstract Hepatocellular carcinoma is a lethal cancer with high recurrence ratio and lacks effective therapeutics. In the past few years, it has been reported that increased intake of vegetables and fruits could reduce the cancer incidence, which suggests dietary agents might possess anticancer effects. Eriocitrin is a flavonoid isolated from lemon, which is known as a strong antioxidant agent. We here for the first time demonstrated that eriocitrin could inhibit the proliferation of hepatocellular carcinoma cell lines by arresting cell cycle in S phase through up-regulation of p53, cyclin A, cyclin D3 and CDK6. Furthermore, we found that eriocitrin could trigger apoptosis by activating mitochondria-involved intrinsic signaling pathway. Thus, eriocitrin might be regarded as a potential chemopreventive natural product to inhibit the early malignant transformation of hepatocellular carcinoma. Keywords: Apoptosis; Cell cycle arrest; Eriocitrin; Hepatocellular carcinoma.

In vivo:

Sci Rep. 2014 Jan 15;4:3708.
Eriocitrin ameliorates diet-induced hepatic steatosis with activation of mitochondrial biogenesis.[Pubmed: 24424211]
Lemon (Citrus limon) contains various bioactive flavonoids, and prevents obesity and obesity-associated metabolic diseases. We focused on eriocitrin (eriodictyol 7-rutinoside), a powerful antioxidative flavonoid in lemon with lipid-lowering effects in a rat model of high-fat diet.
METHODS AND RESULTS:
To investigate the mechanism of action of eriocitrin, we conducted feeding experiments on zebrafish with diet-induced obesity. Oral administration of eriocitrin (32 mg/kg/day for 28 days) improved dyslipidaemia and decreased lipid droplets in the liver. DNA microarray analysis revealed that eriocitrin increased mRNA of mitochondrial biogenesis genes, such as mitochondria transcription factor, nuclear respiratory factor 1, cytochrome c oxidase subunit 4, and ATP synthase. In HepG2 cells, eriocitrin also induced the corresponding orthologues, and reduced lipid accumulation under conditions of lipid loading. Eriocitrin increased mitochondrial size and mtDNA content, which resulted in ATP production in HepG2 cells and zebrafish.
CONCLUSIONS:
In summary, dietary eriocitrin ameliorates diet-induced hepatic steatosis with activation of mitochondrial biogenesis.
J Agric Food Chem. 2000 Aug;48(8):3217-24.
Identification and antioxidant activity of flavonoid metabolites in plasma and urine of eriocitrin-treated rats.[Pubmed: 10956094]
Eriocitrin, a flavonoid glycoside present in lemon fruit, is metabolized in vivo to a series of eriodictyol, methylated eriodictyol, 3,4-dihydroxyhydrocinnamic acid, and their conjugates.
METHODS AND RESULTS:
Plasma antioxidant activity increased following oral administration of aqueous Eriocitrin solutions to rats. Eriocitrin metabolites were found in plasma and renal excreted urine through HPLC and LC-MS analyses. Eriocitrin was not detected in plasma and urine, but eriodictyol, homoeriodictyol, and hesperetin in their conjugated forms were detected in plasma of 4.0 h following administration of Eriocitrin. In urine for 24 h, both nonconjugates and conjugates of these metabolites were detected. 3,4-Dihydroxyhydrocinnamic acid, which is metabolized from eriodictyol by intestinal bacteria, was detected in slight amounts with each form in 4.0-h plasma and 24-h urine. Eriocitrin was suggested to be metabolized by intestinal bacteria, and then eriodictyol and 3,4-dihydroxyhydrocinnamic of its metabolite were absorbed.
CONCLUSIONS:
Following administration of Eriocitrin, plasma exhibited an elevated resistance effect to lipid peroxidation. Eriocitrin metabolites functioning as antioxidant agents are discussed.
| | | | | | |
| --- | --- | --- | --- | --- | --- |
| | 1 mg | 5 mg | 10 mg | 20 mg | 25 mg |
| 1 mM | 1.6764 mL | 8.3818 mL | 16.7636 mL | 33.5272 mL | 41.909 mL |
| 5 mM | 0.3353 mL | 1.6764 mL | 3.3527 mL | 6.7054 mL | 8.3818 mL |
| 10 mM | 0.1676 mL | 0.8382 mL | 1.6764 mL | 3.3527 mL | 4.1909 mL |
| 50 mM | 0.0335 mL | 0.1676 mL | 0.3353 mL | 0.6705 mL | 0.8382 mL |
| 100 mM | 0.0168 mL | 0.0838 mL | 0.1676 mL | 0.3353 mL | 0.4191 mL |
* Note:
If you are in the process of experiment, it's need to make the dilution ratios of the samples. The dilution data of the sheet for your reference. Normally, it's can get a better solubility within lower of Concentrations.
部分图片展示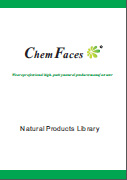 联系方式

电机:027-84237783
传真:027-84254680
在线QQ: 1413575084
E-Mail:manager@chemfaces.com

湖北省武汉沌口经济技术开区车城南路83号1号楼第三层厂房