诃子鞣酸
Chebulagic acid
| | | | | |
| --- | --- | --- | --- | --- |
| 产品名称 | 产品编号 | CAS编号 | 包装 | QQ客服 |
| 诃子鞣酸 | CFN92295 | 23094-71-5 | 1mg | QQ客服:1148253675 |
| 诃子鞣酸 | CFN92295 | 23094-71-5 | 5mg | QQ客服:1148253675 |
| 诃子鞣酸 | CFN92295 | 23094-71-5 | 10mg | QQ客服:1148253675 |
| 诃子鞣酸 | CFN92295 | 23094-71-5 | 20mg | QQ客服:1148253675 |
1. 在您收到产品后请检查产品。如无问题,请将产品存入冰霜并且样品瓶保持密封,产品可以存放长达24个月(2-8摄氏度)。

2. 只要有可能,产品溶解后,您应该在同一天应用于您的实验。 但是,如果您需要提前做预实验,或者需要全部溶解,我们建议您将溶液以等分试样的形式存放在-20℃的密封小瓶中。 通常,这些可用于长达两周。 使用前,打开样品瓶前,我们建议您将产品平衡至室温至少1小时。

3. 需要更多关于溶解度,使用和处理的建议? 请发送电子邮件至:service@chemfaces.com
订购流程
1. 在线订购
请联系我们QQ客服


2. 电话订购
请拨打电话:
027-84237683 或 027-84237783


3. 邮件或传真订购
发送电子邮件到: manager@chemfaces.com 或
发送传真到:027-84254680


提供订购信息
为了方便客户的订购,请需要订购ChemFaces产品的客户,在下单的时候请提供下列信息,以供我们快速为您建立发货信息。
1. 产品编号(CAS No.或产品名称)
2. 发货地址
3. 联系方法 (联系人,电话)
4. 开票抬头 (如果需要发票的客户)
5. 发票地址(发货地址与发票地址不同)
发货时间
1. 付款方式为100%预付款客户,我们将在确认收到货款后当天或1-3个工作日发货。

2. 付款方式为月结的客户,我们承诺在收到订单后当天或1-3个工作日内发货。

3. 如果客户所需要的产品,需要重新生产,我们有权告知客户,交货时间需要延期。
ChemFaces的产品在许多优秀和顶级科学期刊中被引用
我们的产品现已经出口到下面的研究机构与大学,并且还在增涨
Kyung Hee University (Korea)
Amity University (India)
Michigan State University (USA)
Deutsches Krebsforschungszentrum (Germany)
Washington State University (USA)
University of the Basque Country (Spain)
Universidade de Franca (Brazil)
Wageningen University (Netherlands)
Helmholtz Zentrum München (Germany)
Florida A&M University (USA)
University of Beira Interior (Portugal)
Universidade da Beira Interior (Germany)
The Australian National University (Australia)
MTT Agrifood Research Finland (Finland)
国外学术期刊发表的引用ChemFaces产品的部分文献
Description:
Chebulagic acid is a potent DNA topoisomerase inhibitor, and is also COX-2 and 5-LOX dual inhibitor. Chebulagic acid may be of value as broad-spectrum antivirals for limiting emerging/ recurring viruses known to engage host cell glycosaminoglycans for entry. Chebulagic acid can be used to control blood glucose and manage type 2 diabetes, although clinical trials are needed.
Targets:
COX | LOX | Topoisomerase | HIV | AMPK | Autophagy | mTOR | ATPase | PPAR | GLUT | Bcl-2/Bax | Caspase | P450 (e.g. CYP17) | CDK | NF-kB | MMP(e.g.TIMP) | VEGFR | IkB | IKK
In vitro:

BMC Complement Altern Med. 2014 Aug 29;14:319.
Chebulagic acid from Terminalia chebula causes G1 arrest, inhibits NFκB and induces apoptosis in retinoblastoma cells.[Pubmed: 25169718]
Plants are the valuable source of natural products with important medicinal properties. Most of the approved anti cancer drugs have a natural product origin or are natural products. Retinoblastoma is the most common ocular cancer of children. Although chemotherapy is the preferred mode of therapy, a successful treatment for retinoblastoma requires enucleation. Chebulagic acid (CA) from Terminalia chebula was shown to have anti-proliferative properties in the studies on cancerous cell lines. Due to anti cancer properties of CA and due to limitation in treatment options for retinoblastoma, the present study is undertaken to understand the role of CA on the proliferation of retinoblastoma cells.
METHODS AND RESULTS:
Anti proliferative potential of CA was determined by MTT assay. The expression levels of various cell death mediators in retinoblastoma cells with CA treatment were assessed by Western blotting. Flowcytometer analysis was used to estimate the mitochondrial membrane potential (MMP) and to determine the percentage of cells undergoing apoptosis. The present study showed CA inhibited the proliferation of retinoblastoma cells in a dose dependent manner. CA modulated MMP, induced release of Cytochrome c, activated caspase 3 and shifted the ratio of BAX and Bcl2 towards cell death. G1 arrest, noticed in CA treated cells, is mediated by the increase in the expression of CDK inhibitor p27. CA treatment also decreased the levels of NFκB in the nucleus. This decrease is mediated by suppression in degradation of IκBα.
CONCLUSIONS:
CA has shown significant anti proliferative potential on retinoblastoma cells. Our findings clearly demonstrate that CA induces G1 arrest, inhibits NFκB and induces apoptosis of retinoblastoma cells.
Sci Rep. 2015 Apr 10;5:9642.
The natural compound chebulagic acid inhibits vascular endothelial growth factor A mediated regulation of endothelial cell functions.[Pubmed: 25859636]
Vascular endothelial growth factor A (VEGFA) plays an important role in tumour angiogenesis and its angiogenic action is mainly mediated through its VEGF receptor 2 (VEGFR-2). Therefore drugs targeting VEGFA/VEGFR-2 are being presently used in the clinics for treatment of several types of solid malignant tumours.
METHODS AND RESULTS:
We here in report that low dose of chebulagic acid (CA), a hydrolysable tannin found in myrobalan fruits can inhibit VEGFA induced vascular permeability, endothelial cell proliferation, migration, tube formation and thereby, angiogenesis by suppressing VEGFR-2 phosphorylation.
CONCLUSIONS:
CA may thus be an effective and useful natural inhibitor of VEGFA mediated angiogenesis.

In vivo:

Int J Mol Sci. 2012;13(5):6320-33.
Anti-hyperglycemic effect of chebulagic acid from the fruits of Terminalia chebula Retz.[Pubmed: 22754367]

METHODS AND RESULTS:
In the present study, we firstly compared rat intestinal α-glucosidase inhibitory activity by different ethanol-aqueous extractions from the dried fruits of Terminalia chebula Retz. The enzymatic assay showed that the 80% ethanol extract was more potent against maltase activity than both 50% and 100% ethanol extracts. By HPLC analysis, it was determined that the 80% ethanol extract had a higher content of chebulagic acid than each of 50% or 100% ethanol extract. Next, we investigated how efficiently chebulagic acid could inhibit sugar digestion by determining the glucose level on the apical side of the Caco-2 cell monolayer. The result showed that the maltose-hydrolysis activity was down-regulated by chebulagic acid, which proved to be a reversible inhibitor of maltase in Caco-2 cells. On the other hand, chebulagic acid showed a weak inhibition of sucrose-hydrolysis activity. Meanwhile, chebulagic acid did not have an obvious influence on intestinal glucose uptake and was not effective on glucose transporters. Further animal studies revealed that the oral administration of chebulagic acid (100 mg/kg body weight) significantly reduced postprandial blood glucose levels by 11.1% in maltose-loaded Sprague-Dawley (SD) rats compared with the control group, whereas the oral administration of chebulagic acid did not show a suppressive effect on postprandial hyperglycemia in sucrose- or glucose-loaded SD-rats.
CONCLUSIONS:
The results presented here suggest that chebulagic acid from T. chebula can be used to control blood glucose and manage type 2 diabetes, although clinical trials are needed.
| | | | | | |
| --- | --- | --- | --- | --- | --- |
| | 1 mg | 5 mg | 10 mg | 20 mg | 25 mg |
| 1 mM | 1.0474 mL | 5.2372 mL | 10.4745 mL | 20.949 mL | 26.1862 mL |
| 5 mM | 0.2095 mL | 1.0474 mL | 2.0949 mL | 4.1898 mL | 5.2372 mL |
| 10 mM | 0.1047 mL | 0.5237 mL | 1.0474 mL | 2.0949 mL | 2.6186 mL |
| 50 mM | 0.0209 mL | 0.1047 mL | 0.2095 mL | 0.419 mL | 0.5237 mL |
| 100 mM | 0.0105 mL | 0.0524 mL | 0.1047 mL | 0.2095 mL | 0.2619 mL |
* Note:
If you are in the process of experiment, it's need to make the dilution ratios of the samples. The dilution data of the sheet for your reference. Normally, it's can get a better solubility within lower of Concentrations.
部分图片展示
| | | | | | |
| --- | --- | --- | --- | --- | --- |
| 产品名称 | 产品编号 | CAS编号 | 分子式 = 分子量 | 位单 | 联系QQ |
| 叶下珠鞣质C; Phyllanthusiin C | CFN95260 | 142674-52-0 | C40H30O26 = 926.7 | 5mg | QQ客服:2932563308 |
| 诃子鞣酸; Chebulagic acid | CFN92295 | 23094-71-5 | C41H30O27 = 954.7 | 5mg | QQ客服:1148253675 |
| 诃子林鞣酸; Chebulinic acid | CFN92296 | 18942-26-2 | C41H32O27 = 956.7 | 20mg | QQ客服:2932563308 |
| 新诃黎勒鞣花酸甲酯; Methyl neochebulinate | CFN95201 | 1236310-34-1 | C42H36O28 = 988.7 | 5mg | QQ客服:3257982914 |
| 月见草素 B; Oenothein B | CFN91651 | 104987-36-2 | C68H48O44 = 1569.1 | 5mg | QQ客服:2932563308 |
| 1,2,3,6-四-O-没食子酰-β-D-葡萄糖; 1,2,3,6-Tetragalloylglucose | CFN00447 | 79886-50-3 | C34H28O22 = 788.57 | 10mg | QQ客服:1148253675 |
| 1,3,4,6-四没食子酰葡萄糖; 1,3,4,6-Tetragalloylglucose | CFN95425 | 26922-99-6 | C34H28O22 = 788.6 | 10mg | QQ客服:2159513211 |
| 1,3,6-三没食子酰葡萄糖; 1,3,6-Tri-O-galloylglucose | CFN95043 | 18483-17-5 | C27H24O18 = 636.5 | 10mg | QQ客服:3257982914 |
| 葡萄糖没食子鞣苷; beta-Glucogallin | CFN70245 | 13405-60-2 | C13H16O10 = 332.3 | 5mg | QQ客服:1148253675 |
| 1-O-没食子酰-6-O-肉桂酰葡萄糖; 1-O-galloyl-6-O-cinnamoylglucose | CFN95053 | 115746-69-5 | C22H22O11 = 462.4 | 5mg | QQ客服:2159513211 |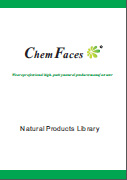 联系方式

电机:027-84237783
传真:027-84254680
在线QQ: 1413575084
E-Mail:manager@chemfaces.com

湖北省武汉沌口经济技术开区车城南路83号1号楼第三层厂房