老鹳草素
Geraniin
产品编号
CFN90256
CAS编号
60976-49-0
分子式 = 分子量
C41H28O27 = 952.64
产品纯度
>=98%
物理属性
Powder
化合物类型
Phenols
植物来源
The herbs of Phyllanthus urinaria L.
ChemFaces的产品在影响因子大于5的优秀和顶级科学期刊中被引用
| | | | | |
| --- | --- | --- | --- | --- |
| 产品名称 | 产品编号 | CAS编号 | 包装 | QQ客服 |
| 老鹳草素 | CFN90256 | 60976-49-0 | 10mg | QQ客服:1148253675 |
| 老鹳草素 | CFN90256 | 60976-49-0 | 20mg | QQ客服:1148253675 |
| 老鹳草素 | CFN90256 | 60976-49-0 | 50mg | QQ客服:1148253675 |
| 老鹳草素 | CFN90256 | 60976-49-0 | 100mg | QQ客服:1148253675 |
1. 在您收到产品后请检查产品。如无问题,请将产品存入冰霜并且样品瓶保持密封,产品可以存放长达24个月(2-8摄氏度)。

2. 只要有可能,产品溶解后,您应该在同一天应用于您的实验。 但是,如果您需要提前做预实验,或者需要全部溶解,我们建议您将溶液以等分试样的形式存放在-20℃的密封小瓶中。 通常,这些可用于长达两周。 使用前,打开样品瓶前,我们建议您将产品平衡至室温至少1小时。

3. 需要更多关于溶解度,使用和处理的建议? 请发送电子邮件至:service@chemfaces.com
订购流程
1. 在线订购
请联系我们QQ客服


2. 电话订购
请拨打电话:
027-84237683 或 027-84237783


3. 邮件或传真订购
发送电子邮件到: manager@chemfaces.com 或
发送传真到:027-84254680


提供订购信息
为了方便客户的订购,请需要订购ChemFaces产品的客户,在下单的时候请提供下列信息,以供我们快速为您建立发货信息。
1. 产品编号(CAS No.或产品名称)
2. 发货地址
3. 联系方法 (联系人,电话)
4. 开票抬头 (如果需要发票的客户)
5. 发票地址(发货地址与发票地址不同)
发货时间
1. 付款方式为100%预付款客户,我们将在确认收到货款后当天或1-3个工作日发货。

2. 付款方式为月结的客户,我们承诺在收到订单后当天或1-3个工作日内发货。

3. 如果客户所需要的产品,需要重新生产,我们有权告知客户,交货时间需要延期。
ChemFaces的产品在许多优秀和顶级科学期刊中被引用
我们的产品现已经出口到下面的研究机构与大学,并且还在增涨
Wroclaw Medical University (Poland)
Martin Luther University of Halle-Wittenberg (Germany)
University of Maryland (USA)
Research Unit Molecular Epigenetics (MEG) (Germany)
National Research Council of Canada (Canada)
Kitasato University (Japan)
Universitas Airlangga (Indonesia)
China Medical University (Taiwan)
Universidad de Buenos Aires (Argentina)
University of Parma (Italy)
Universiti Kebangsaan Malaysia (Malaysia)
Lund University (Sweden)
Tokyo Woman's Christian University (Japan)
Ateneo de Manila University (Philippines)
国外学术期刊发表的引用ChemFaces产品的部分文献
Description:
Geraniin is a TNF-α releasing inhibitor with numerous activities including anticancer, anti-inflammatory, has anti-oxidant , and anti-hyperglycemic activities, with an IC50 of 43 μM. Geraniin presents radioprotective effects by regulating DNA damage on splenocytes, exerting immunostimulatory capacities and inhibiting apoptosis of radiosensitive immune cells and jejunal crypt cells. Geraniin induces Nrf2-mediated expression of antioxidant enzymes HO-1 and NQO1, presumably via PI3K/AKT and ERK1/2 signaling pathways, thereby protecting cells from H2O2-induced oxidative cell death.
Targets:
NF-kB | ERK | Nrf2 | PI3K | Akt | NADPH-oxidase | HO-1 | ROS | MMP(e.g.TIMP) | p53 | NQO1 | TNF-α
In vitro:

Exp Cell Res. 2015 Jan 1;330(1):91-101.
Geraniin suppresses RANKL-induced osteoclastogenesis in vitro and ameliorates wear particle-induced osteolysis in mouse model.[Pubmed: 25016282]
Wear particle-induced osteolysis and subsequent aseptic loosening remains the most common complication that limits the longevity of prostheses. Wear particle-induced osteoclastogenesis is known to be responsible for extensive bone erosion that leads to prosthesis failure. Thus, inhibition of osteoclastic bone resorption may serve as a therapeutic strategy for the treatment of wear particle induced osteolysis.
METHODS AND RESULTS:
In this study, we demonstrated for the first time that geraniin, an active natural compound derived from Geranium thunbergii, ameliorated particle-induced osteolysis in a Ti particle-induced mouse calvaria model in vivo. We also investigated the mechanism by which geraniin exerts inhibitory effects on osteoclasts. Geraniin inhibited RANKL-induced osteoclastogenesis in a dose-dependent manner, evidenced by reduced osteoclast formation and suppressed osteoclast specific gene expression. Specially, geraniin inhibited actin ring formation and bone resorption in vitro. Further molecular investigation demonstrated geraniin impaired osteoclast differentiation via the inhibition of the RANKL-induced NF-κB and ERK signaling pathways, as well as suppressed the expression of key osteoclast transcriptional factors NFATc1 and c-Fos.
CONCLUSIONS:
Collectively, our data suggested that geraniin exerts inhibitory effects on osteoclast differentiation in vitro and suppresses Ti particle-induced osteolysis in vivo. Geraniin is therefore a potential natural compound for the treatment of wear particle induced osteolysis in prostheses failure.
Can J Physiol Pharmacol. 2013 Dec;91(12):1016-24.
Geraniin induces apoptotic cell death in human lung adenocarcinoma A549 cells in vitro and in vivo.[Pubmed: 24289071]
Geraniin has previously been reported to possess extensive biological activity. In this study, we reported that geraniin is an inhibitor of tumor activity in vitro and in vivo.
METHODS AND RESULTS:
Geraniin suppressed the proliferation of A549 cells in a dose- and time-dependent manner. Geraniin arrested the cell cycle in the S phase and induced a significant accumulation of reactive oxygen species (ROS), as well as an increased percentage of cells with mitochondrial membrane potential (MMP) disruption. Western blot analysis showed that geraniin inhibited Bcl-2 expression and induced Bax expression to disintegrate the outer mitochondrial membrane and cause cytochrome c release. Mitochondrial cytochrome c release was associated with the activation of caspase-9 and caspase-3 cascades. Additionally, geraniin resulted in tumor growth inhibition in A549 xenografts.
CONCLUSIONS:
Our results indicate cytotoxic activity of geraniin towards cancer cells in vitro and in vivo.
J Biochem Mol Toxicol . 2017 Sep;31(9).
Geraniin suppresses ovarian cancer growth through inhibition of NF-κB activation and downregulation of Mcl-1 expression[Pubmed: 28590547]
Abstract This study investigated the anticancer effects of geraniin on ovarian cancer cells and the signaling pathways involved. Ovarian cancer cells were treated with different concentrations of geraniin for 48 h and examined for viability, apoptosis, mitochondrial membrane depolarization, and gene expression. Xenograft tumor studies were performed to determine the anticancer activity of geraniin in vivo. Geraniin significantly decreased cancer cell viability in a concentration-dependent fashion. Geraniin significantly triggered apoptosis, which was accompanied by loss of mitochondrial membrane potential and increased cytochrome c release and caspsase-3 activity. Mechanistically, geraniin significantly downregulated Mcl-1 and impaired NF-κB p65 binding to the mcl-1 promoter. Overexpression of Mcl-1 significantly reversed geraniin-induced apoptosis in OVCAR3 cells. In addition, geraniin retarded ovarian cancer growth and reduced expression of phospho-p65 and Mcl-1. Collectively, geraniin elicits growth suppression in ovarian cancer through inhibition of NF-κB and Mcl-1 and may provide therapeutic benefits for this malignancy. Keywords: NF-κB; growth suppression; ovarian cancer; phytochemical.

In vivo:

Bioorg Med Chem Lett. 2015 Feb 1;25(3):673-9.
Osteoprotective effect of geraniin against ovariectomy-induced bone loss in rats.[Pubmed: 25532904]
In the present study, we investigated the antiosteoporotic effect of geraniin on osteoporosis induced by OVX in rats.
METHODS AND RESULTS:
The analysis of biochemical parameters showed that geraniin could significantly increase serum calcium, estradiol and calcitonin levels, and decrease serum ALP, tartrate-resistant acid phosphatase, serum crosslinked C-terminal telopeptide of type I collagen, and urinary deoxypyridinoline/creatinine ratio levels, respectively. Geraniin was also found to prevent OVX-induced bone loss in bone mineral density and bone mineral content, to elevate femur weight and bone calcium content, and to enhance the bone mechanical properties as compared with OVX group. In addition, geraniin was demonstrated to improve the histomorphological parameters of OVX-induced bone loss, including bone trabecular number, thickness, and separation.
CONCLUSIONS:
These results indicated that geraniin have a protective effect against OVX-induced rat osteoporosis.
| | | | | | |
| --- | --- | --- | --- | --- | --- |
| | 1 mg | 5 mg | 10 mg | 20 mg | 25 mg |
| 1 mM | 1.0497 mL | 5.2486 mL | 10.4971 mL | 20.9943 mL | 26.2429 mL |
| 5 mM | 0.2099 mL | 1.0497 mL | 2.0994 mL | 4.1989 mL | 5.2486 mL |
| 10 mM | 0.105 mL | 0.5249 mL | 1.0497 mL | 2.0994 mL | 2.6243 mL |
| 50 mM | 0.021 mL | 0.105 mL | 0.2099 mL | 0.4199 mL | 0.5249 mL |
| 100 mM | 0.0105 mL | 0.0525 mL | 0.105 mL | 0.2099 mL | 0.2624 mL |
* Note:
If you are in the process of experiment, it's need to make the dilution ratios of the samples. The dilution data of the sheet for your reference. Normally, it's can get a better solubility within lower of Concentrations.
部分图片展示
| | | | | | |
| --- | --- | --- | --- | --- | --- |
| 产品名称 | 产品编号 | CAS编号 | 分子式 = 分子量 | 位单 | 联系QQ |
| Pinocembrin 7-O-(4'',6''-hexahydroxydiphenoyl)-beta-D-glucose; Pinocembrin 7-O-(4'',6''-hexahydroxydiphenoyl)-beta-D-glucose | CFN95462 | 1825287-22-6 | C35H28O17 = 720.6 | 10mg | QQ客服:1148253675 |
| Pinocembrin 7-O-(3''-galloyl-4'',6''-(S)-hexahydroxydiphenoyl)-β-D-glucose; Pinocembrin 7-O-(3''-galloyl-4'',6''-(S)-hexahydroxydiphenoyl)-beta-D-glucose | CFN90881 | 205370-59-8 | C42H32O21 = 872.7 | 20mg | QQ客服:2932563308 |
| 2,6-Dihydroxyacetophenone-4-O-[4',6'-(S)-hexahydroxydiphenoyl]-beta-D-glucose; 2,6-Dihydroxyacetophenone-4-O-[4',6'-(S)-hexahydroxydiphenoyl]-beta-D-glucose | CFN95470 | 1781226-44-5 | C28H24O17 = 632.5 | 5mg | QQ客服:3257982914 |
| 老鹳草素; Geraniin | CFN90256 | 60976-49-0 | C41H28O27 = 952.64 | 20mg | QQ客服:215959384 |
| 叶下珠鞣质C; Phyllanthusiin C | CFN95260 | 142674-52-0 | C40H30O26 = 926.7 | 5mg | QQ客服:215959384 |
| 诃子鞣酸; Chebulagic acid | CFN92295 | 23094-71-5 | C41H30O27 = 954.7 | 5mg | QQ客服:215959384 |
| 诃子林鞣酸; Chebulinic acid | CFN92296 | 18942-26-2 | C41H32O27 = 956.7 | 20mg | QQ客服:2159513211 |
| 新诃黎勒鞣花酸甲酯; Methyl neochebulinate | CFN95201 | 1236310-34-1 | C42H36O28 = 988.7 | 5mg | QQ客服:1413575084 |
| 月见草素 B; Oenothein B | CFN91651 | 104987-36-2 | C68H48O44 = 1569.1 | 5mg | QQ客服:2159513211 |
| 1,2,3,6-四-O-没食子酰-β-D-葡萄糖; 1,2,3,6-Tetragalloylglucose | CFN00447 | 79886-50-3 | C34H28O22 = 788.57 | 10mg | QQ客服:215959384 |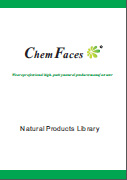 联系方式

电机:027-84237783
传真:027-84254680
在线QQ: 1413575084
E-Mail:manager@chemfaces.com

湖北省武汉沌口经济技术开区车城南路83号1号楼第三层厂房