豌豆素
Pisatin
| | | | | |
| --- | --- | --- | --- | --- |
| 产品名称 | 产品编号 | CAS编号 | 包装 | QQ客服 |
| 豌豆素 | CFN96000 | 20186-22-5 | 1mg | QQ客服:2159513211 |
| 豌豆素 | CFN96000 | 20186-22-5 | 5mg | QQ客服:2159513211 |
| 豌豆素 | CFN96000 | 20186-22-5 | 10mg | QQ客服:2159513211 |
| 豌豆素 | CFN96000 | 20186-22-5 | 20mg | QQ客服:2159513211 |
1. 在您收到产品后请检查产品。如无问题,请将产品存入冰霜并且样品瓶保持密封,产品可以存放长达24个月(2-8摄氏度)。

2. 只要有可能,产品溶解后,您应该在同一天应用于您的实验。 但是,如果您需要提前做预实验,或者需要全部溶解,我们建议您将溶液以等分试样的形式存放在-20℃的密封小瓶中。 通常,这些可用于长达两周。 使用前,打开样品瓶前,我们建议您将产品平衡至室温至少1小时。

3. 需要更多关于溶解度,使用和处理的建议? 请发送电子邮件至:service@chemfaces.com
订购流程
1. 在线订购
请联系我们QQ客服


2. 电话订购
请拨打电话:
027-84237683 或 027-84237783


3. 邮件或传真订购
发送电子邮件到: manager@chemfaces.com 或
发送传真到:027-84254680


提供订购信息
为了方便客户的订购,请需要订购ChemFaces产品的客户,在下单的时候请提供下列信息,以供我们快速为您建立发货信息。
1. 产品编号(CAS No.或产品名称)
2. 发货地址
3. 联系方法 (联系人,电话)
4. 开票抬头 (如果需要发票的客户)
5. 发票地址(发货地址与发票地址不同)
发货时间
1. 付款方式为100%预付款客户,我们将在确认收到货款后当天或1-3个工作日发货。

2. 付款方式为月结的客户,我们承诺在收到订单后当天或1-3个工作日内发货。

3. 如果客户所需要的产品,需要重新生产,我们有权告知客户,交货时间需要延期。
ChemFaces的产品在许多优秀和顶级科学期刊中被引用
我们的产品现已经出口到下面的研究机构与大学,并且还在增涨
Macau University of Science and Technology (China)
Fraunhofer-Institut für Molekularbiologie und Angewandte ?kologie IME (Germany)
Chulalongkorn University (Thailand)
University of British Columbia (Canada)
Univerzita Karlova v Praze (Czech Republic)
University of Beira Interior (Portugal)
Max-Planck-Insitut (Germany)
University of Amsterdam (Netherlands)
Johannes Gutenberg University Mainz (JGU) (Germany)
University of Stirling (United Kingdom)
Sant Gadge Baba Amravati University (India)
Center for protein Engineering (CIP) (Belgium)
Florida A&M University (USA)
University of Medicine and Pharmacy (Romania)
国外学术期刊发表的引用ChemFaces产品的部分文献
Description:
Pisatin is an isoflavonoid phytoalexin synthesized by pea (Pisum sativum L.).
Targets:
P450 (e.g. CYP17) | NADPH-oxidase
In vitro:

Molecules. 2014 Dec 23;20(1):24-34.
EDTA a novel inducer of pisatin, a phytoalexin indicator of the non-host resistance in peas.[Pubmed: 25546618]
Pea pod endocarp suppresses the growth of an inappropriate fungus or non-pathogen by generating a "non-host resistance response" that completely suppresses growth of the challenging fungus within 6 h. Most of the components of this resistance response including Pisatin production can be elicited by an extensive number of both biotic and abiotic inducers. Thus this phytoalexin serves as an indicator to be used in evaluating the chemical properties of inducers that can initiate the resistance response. Many of the Pisatin inducers are reported to interact with DNA and potentially cause DNA damage.
METHODS AND RESULTS:
Here we propose that EDTA (ethylenediaminetetraacetic acid) is an elicitor to evoke non-host resistance in plants. EDTA is manufactured as a chelating agent, however at low concentration it is a strong elicitor, inducing the phytoalexin Pisatin, cellular DNA damage and defense-responsive genes. It is capable of activating complete resistance in peas against a pea pathogen. Since there is also an accompanying fragmentation of pea DNA and alteration in the size of pea nuclei, the potential biochemical insult as a metal chelator may not be its primary action.
CONCLUSIONS:
The potential effects of EDTA on the structure of DNA within pea chromatin may assist the transcription of plant defense genes.
Mol Plant Microbe Interact. 2004 Jul;17(7):798-804.
Introduction of plant and fungal genes into pea (Pisum sativum L.) hairy roots reduces their ability to produce pisatin and affects their response to a fungal pathogen.[Pubmed: 15242174]
Pisatin is an isoflavonoid phytoalexin synthesized by pea (Pisum sativum L.). Previous studies have identified two enzymes apparently involved in the synthesis of this phytoalexin, isoflavone reductase (IFR), which catalyzes an intermediate step in Pisatin biosynthesis, and (+)6a-hydroxymaackiain 3-O-methyltransferase (HMM), an enzyme catalyzing the terminal step.
METHODS AND RESULTS:
To further evaluate the involvement of these enzymes in Pisatin biosynthesis, sense- and antisense-oriented cDNAs of Ifr and Hmm fused to the 35s CaMV promoter, and Agrobacterium rhizogenes, were used to produce transgenic pea hairy root cultures. PDA, a gene encoding Pisatin demethylating activity (pda) in the pea-pathogenic fungus Nectria haematococca, also was used in an attempt to reduce Pisatin levels. Although hairy root tissue with either sense or antisense Ifr cDNA produced less Pisatin, the greatest reduction occurred with sense or antisense Hmm cDNA. The reduced Pisatin production in these lines was associated with reduced amounts of Hmm transcripts, HMM protein, and HMM enzyme activity. Hairy roots containing the PDA gene also produced less Pisatin. To evaluate the role of Pisatin in disease resistance, the virulence of N. haematococca on the transgenic roots that produced the lowest levels of Pisatin was tested.
CONCLUSIONS:
Hairy roots expressing antisense Hmm were more susceptible than the control hairy roots to isolates of N. haematococca that are either virulent or nonvirulent on wild-type pea plants. This appears to be the first case of producing transgenic plant tissue with a reduced ability to produce a phytoalexin and demonstrating that such tissue is less resistant to fungal infection: these results support the hypothesis that phytoalexin production is a disease resistance mechanism.
| | | | | | |
| --- | --- | --- | --- | --- | --- |
| | 1 mg | 5 mg | 10 mg | 20 mg | 25 mg |
| 1 mM | 3.1817 mL | 15.9084 mL | 31.8167 mL | 63.6335 mL | 79.5418 mL |
| 5 mM | 0.6363 mL | 3.1817 mL | 6.3633 mL | 12.7267 mL | 15.9084 mL |
| 10 mM | 0.3182 mL | 1.5908 mL | 3.1817 mL | 6.3633 mL | 7.9542 mL |
| 50 mM | 0.0636 mL | 0.3182 mL | 0.6363 mL | 1.2727 mL | 1.5908 mL |
| 100 mM | 0.0318 mL | 0.1591 mL | 0.3182 mL | 0.6363 mL | 0.7954 mL |
* Note:
If you are in the process of experiment, it's need to make the dilution ratios of the samples. The dilution data of the sheet for your reference. Normally, it's can get a better solubility within lower of Concentrations.
部分图片展示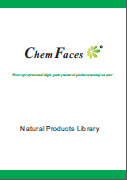 联系方式

电机:027-84237783
传真:027-84254680
在线QQ: 215959384
E-Mail:manager@chemfaces.com

湖北省武汉沌口经济技术开区车城南路83号1号楼第三层厂房