葡萄糖没食子鞣苷
beta-Glucogallin
| | | | | |
| --- | --- | --- | --- | --- |
| 产品名称 | 产品编号 | CAS编号 | 包装 | QQ客服 |
| 葡萄糖没食子鞣苷 | CFN70245 | 13405-60-2 | 1mg | QQ客服:1457312923 |
| 葡萄糖没食子鞣苷 | CFN70245 | 13405-60-2 | 5mg | QQ客服:1457312923 |
| 葡萄糖没食子鞣苷 | CFN70245 | 13405-60-2 | 10mg | QQ客服:1457312923 |
| 葡萄糖没食子鞣苷 | CFN70245 | 13405-60-2 | 20mg | QQ客服:1457312923 |
1. 在您收到产品后请检查产品。如无问题,请将产品存入冰霜并且样品瓶保持密封,产品可以存放长达24个月(2-8摄氏度)。

2. 只要有可能,产品溶解后,您应该在同一天应用于您的实验。 但是,如果您需要提前做预实验,或者需要全部溶解,我们建议您将溶液以等分试样的形式存放在-20℃的密封小瓶中。 通常,这些可用于长达两周。 使用前,打开样品瓶前,我们建议您将产品平衡至室温至少1小时。

3. 需要更多关于溶解度,使用和处理的建议? 请发送电子邮件至:service@chemfaces.com
订购流程
1. 在线订购
请联系我们QQ客服


2. 电话订购
请拨打电话:
027-84237683 或 027-84237783


3. 邮件或传真订购
发送电子邮件到: manager@chemfaces.com 或
发送传真到:027-84254680


提供订购信息
为了方便客户的订购,请需要订购ChemFaces产品的客户,在下单的时候请提供下列信息,以供我们快速为您建立发货信息。
1. 产品编号(CAS No.或产品名称)
2. 发货地址
3. 联系方法 (联系人,电话)
4. 开票抬头 (如果需要发票的客户)
5. 发票地址(发货地址与发票地址不同)
发货时间
1. 付款方式为100%预付款客户,我们将在确认收到货款后当天或1-3个工作日发货。

2. 付款方式为月结的客户,我们承诺在收到订单后当天或1-3个工作日内发货。

3. 如果客户所需要的产品,需要重新生产,我们有权告知客户,交货时间需要延期。
ChemFaces的产品在许多优秀和顶级科学期刊中被引用
我们的产品现已经出口到下面的研究机构与大学,并且还在增涨
Chiang Mai University (Thailand)
Chang Gung University (Taiwan)
Universidade de Franca (Brazil)
University of Perugia (Italy)
Mahatma Gandhi University (India)
University of Sao Paulo (Brazil)
Nanjing University of Chinese Medicine (China)
Macau University of Science and Technology (China)
FORTH-IMBB (Greece)
VIT University (India)
University of Madras (India)
Almansora University (Egypt)
Universite Libre de Bruxelles (Belgium)
Chulalongkorn University (Thailand)
国外学术期刊发表的引用ChemFaces产品的部分文献
Description:
Beta-glucogallin , a recently described Aldose reductase (AR) inhibitor, has antioxidant and anti-inflammatory activities.
Targets:
Aldose reductase | JNK | p38 | ROS | TNF-α | MMP | IL Recepter
In vitro:

Chemico Biological Interactions, 2013, 202(1-3):283-287.
Beta-glucogallin reduces the expression of lipopolysaccharide-induced inflammatory markers by inhibition of aldose reductase in murine macrophages and ocular tissues.[Reference: WebLink]
Aldose reductase (AR) catalyzes the reduction of toxic lipid aldehydes to their alcohol products and mediates inflammatory signals triggered by lipopolysaccharide (LPS). Beta-glucogallin (BGG), a recently described AR inhibitor, was purified from extracts of the Indian gooseberry (Emblica officinalis).
METHODS AND RESULTS:
In this study, we found that BGG showed low cytotoxicity in Raw264.7 murine macrophages and effectively inhibited AR activity as measured by a decrease in sorbitol accumulation. In addition, BGG-mediated inhibition of AR prevented LPS-induced activation of JNK and p38 and lowered ROS levels, which could inhibit LPS-induced apoptosis. Uveitis is a disease of the eye associated with chronic inflammation. In this study, we also demonstrated that treatment with BGG decreased the number of inflammatory cells that infiltrate the ocular media of mice with experimental uveitis.
METHODS AND RESULTS:
Accordingly, these results suggest BGG is a potential therapy for inflammatory diseases.
Investigative Ophthalmology & Visual Science,2017,58:1177.
Beta glucogallin, a plant-derived antioxidant and anti-inflammatory agent, alleviates corneal injury from chloropicrin exposure.[Reference: WebLink]
There are no effective therapies to alleviate corneal injury from chloropicrin (CCl3NO2, trichloronitromethane, CP) exposure, a broad spectrum fumigant and pesticide which has been employed as a warfare agent. CP exposure-induced eye injury is associated with lacrimation and inflammation which involves corneal edema and damage. Based on completed mechanistic studies, we tested the efficacy of beta-glucogallin (BGG), a natural antioxidant and anti-inflammatory agent with anti-lipid peroxidation and carbonyl scavenger properties, hypothesized as an effective therapy against CP-induced corneal injury.
METHODS AND RESULTS:
Efficacy studies were carried out in primary human corneal epithelial (HCE) cells following 30 min exposure to 50 µM CP with and without treatment with either 50 µM BGG or a perfluorocarbon oxygen emulsion. Western blot analysis was assessed 24 h post exposure to determine the CP-induced effects on various molecular markers. CP injury was induced in ex vivo rabbit corneas by exposing the corneas to 200 nmol CP for 2 h, followed by washing and treatment with 10 µl of 500 µM BGG and thereafter every 6 h for 24 h. Corneal tissue was prepared for subsequent histological (H&E staining), immunohistochemical, and western blot analyses. In primary HCE cells, BGG treatment reduced CP-induced increases in cleaved PARP by 35%, H2A.X phosphorylation by 40%, MAPK-JNK phosphorylation by 43%, protein carbonylation (biotin hydrazide) by 56%, and a complete reversal in lipid peroxidation (4-hydroxynonenal, 4-HNE). Preliminary studies in HCE cells indicate that application of the oxygen emulsion reduced CP-induced phosphophorylated-p53 and cleaved PARP. In ex vivo rabbit corneas, BGG treatment resulted in a 31% reversal in CP-induced epithelial degradation and complete reversal in CP-induced COX-2 expression and protein carbonylation.
CONCLUSIONS:
These data suggest strong potential for BGG in reversing CP-induced lipid peroxidation and protein carbonylation as well as reducing epithelial degradation and inflammation in rabbit cornea when given 2 h after CP exposure. Further studies expanding the examination of BGG alone or in combination with oxygen emulsion in alleviating CP- and other chemical agents-induced ocular injury, and delineation of its targets and pathways is justified.
| | | | | | |
| --- | --- | --- | --- | --- | --- |
| | 1 mg | 5 mg | 10 mg | 20 mg | 25 mg |
| 1 mM | 3.0093 mL | 15.0466 mL | 30.0933 mL | 60.1866 mL | 75.2332 mL |
| 5 mM | 0.6019 mL | 3.0093 mL | 6.0187 mL | 12.0373 mL | 15.0466 mL |
| 10 mM | 0.3009 mL | 1.5047 mL | 3.0093 mL | 6.0187 mL | 7.5233 mL |
| 50 mM | 0.0602 mL | 0.3009 mL | 0.6019 mL | 1.2037 mL | 1.5047 mL |
| 100 mM | 0.0301 mL | 0.1505 mL | 0.3009 mL | 0.6019 mL | 0.7523 mL |
* Note:
If you are in the process of experiment, it's need to make the dilution ratios of the samples. The dilution data of the sheet for your reference. Normally, it's can get a better solubility within lower of Concentrations.
部分图片展示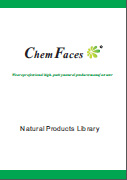 联系方式

电机:027-84237783
传真:027-84254680
在线QQ: 1413575084
E-Mail:manager@chemfaces.com

湖北省武汉沌口经济技术开区车城南路83号1号楼第三层厂房