诃子林鞣酸
Chebulinic acid
| | | | | |
| --- | --- | --- | --- | --- |
| 产品名称 | 产品编号 | CAS编号 | 包装 | QQ客服 |
| 诃子林鞣酸 | CFN92296 | 18942-26-2 | 1mg | QQ客服:3257982914 |
| 诃子林鞣酸 | CFN92296 | 18942-26-2 | 5mg | QQ客服:3257982914 |
| 诃子林鞣酸 | CFN92296 | 18942-26-2 | 10mg | QQ客服:3257982914 |
| 诃子林鞣酸 | CFN92296 | 18942-26-2 | 20mg | QQ客服:3257982914 |
1. 在您收到产品后请检查产品。如无问题,请将产品存入冰霜并且样品瓶保持密封,产品可以存放长达24个月(2-8摄氏度)。

2. 只要有可能,产品溶解后,您应该在同一天应用于您的实验。 但是,如果您需要提前做预实验,或者需要全部溶解,我们建议您将溶液以等分试样的形式存放在-20℃的密封小瓶中。 通常,这些可用于长达两周。 使用前,打开样品瓶前,我们建议您将产品平衡至室温至少1小时。

3. 需要更多关于溶解度,使用和处理的建议? 请发送电子邮件至:service@chemfaces.com
订购流程
1. 在线订购
请联系我们QQ客服


2. 电话订购
请拨打电话:
027-84237683 或 027-84237783


3. 邮件或传真订购
发送电子邮件到: manager@chemfaces.com 或
发送传真到:027-84254680


提供订购信息
为了方便客户的订购,请需要订购ChemFaces产品的客户,在下单的时候请提供下列信息,以供我们快速为您建立发货信息。
1. 产品编号(CAS No.或产品名称)
2. 发货地址
3. 联系方法 (联系人,电话)
4. 开票抬头 (如果需要发票的客户)
5. 发票地址(发货地址与发票地址不同)
发货时间
1. 付款方式为100%预付款客户,我们将在确认收到货款后当天或1-3个工作日发货。

2. 付款方式为月结的客户,我们承诺在收到订单后当天或1-3个工作日内发货。

3. 如果客户所需要的产品,需要重新生产,我们有权告知客户,交货时间需要延期。
ChemFaces的产品在许多优秀和顶级科学期刊中被引用
我们的产品现已经出口到下面的研究机构与大学,并且还在增涨
University of Maryland School of Medicine (USA)
Rio de Janeiro State University (Brazil)
Universidade Católica Portuguesa (Portugal)
Istanbul University (Turkey)
Celltrion Chemical Research Institute (Korea)
Subang Jaya Medical Centre (Malaysia)
Kazusa DNA Research Institute (Japan)
Lund University (Sweden)
Medizinische Universit?t Wien (Austria)
Sri Ramachandra University (India)
China Medical University (Taiwan)
Instituto de Investigaciones Agropecuarias (Chile)
University of Bordeaux (France)
Sanford Burnham Prebys Medical Discovery Institute (USA)
国外学术期刊发表的引用ChemFaces产品的部分文献
Description:
Chebulinic acid is a potent natural inhibitor of M. tuberculosis DNA gyrase, also can inhibit SMAD-3 phosphorylation, inhibit H+ K+-ATPase activity; it also is a natural inhibitor of vascular endothelial growth factor-A mediated angiogenesis. Chebulinic acid has hypotensive, antioxidant, anti-HIV, and anti-ulcer activities. Chebulinic acid has inhibitory effect on erythroid differentiation likely through changing transcriptional activation of differentiation relative genes, it or other tannins might influence the efficiency of some anti-tumor drugs-induced differentiation or the hematopoiesis processes.
Targets:
ATPase | Potassium Channel | VEGFR | HIV | Antifection | GATA-1 | PBGD | NF-E2
In vitro:

Toxicol In Vitro. 2009 Jun;23(4):667-73.
Chebulinic acid and tellimagrandin I inhibit DNA strand breaks by hydroquinone/Cu(II) and H(2)O(2)/Cu(II), but potentiate DNA strand breaks by H(2)O(2)/Fe(II).[Pubmed: 19328845]

METHODS AND RESULTS:
The effects of two polyphenols, chebulinic acid and tellimagrandin I, on DNA strand breaks mediated by H(2)O(2)/Cu(II), hydroquinone (HQ)/Cu(II) and H(2)O(2)/Fe(II) in pBR322 plasmid DNA and genomic DNA of cultured MRC-5 human embryo lung fibroblasts were examined. The results demonstrated that chebulinic acid and tellimagrandin I obviously inhibited HQ/Cu(II)- and H(2)O(2)/Cu(II)-mediated pBR322 DNA strand breaks. When MRC-5 cells were treated with HQ/Cu(II), the presence of chebulinic acid or tellimagrandin I inhibited HQ/Cu(II)-mediated double strand breaks of genomic DNA. The presence of chebulinic acid or tellimagrandin I did not affect the H(2)O(2)- and HQ-mediated reduction of Cu(II) to Cu(I). Both polyphenols could slightly inhibit H(2)O(2)/Fe(II)-mediated plasmid DNA strand break at the lower concentration (1-10 microM), but potentiate the DNA strand break at the higher concentration (over 50 microM).
CONCLUSIONS:
These results demonstrated that chebulinic acid and tellimagrandin I possessed antioxidant action in certain conditions and exerted prooxidant action on DNA strand breaks in other conditions.

In vivo:

Clin Exp Pharmacol Physiol. 1996 Aug;23(8):747-50.
In vitro inhibitory effects of chebulinic acid on the contractile responses of cardiovascular muscles.[Pubmed: 8886502]
1. The effects of chebulinic acid, which has been shown to elicit blood pressure lowering effect in rats, on aortic vascular contraction as well as cardiac contraction were studied in rats.
METHODS AND RESULTS:
2. Chebulinic acid had no effect on KCl-induced aortic contraction, but irreversibly inhibited the contractile responses to phenylephrine in an apparently non-competitive manner. Chebulinic acid also inhibited contractile responses of rat aorta to 5-hydroxytryptamine and angiotensin II. 3. Chebulinic acid inhibited the binding of [3H]-prazosin to dog aortic microsomal membranes in a concentration-dependent manner with an IC50 value of 0.34 mmol/L. Results of saturation binding experiments suggest a mixed mode of inhibition by chebulinic acid (i.e. a decrease in both the maximal number of binding sites and the affinity for prazosin). 4. Chebulinic acid concentration-dependently and reversibly inhibited the maximal left ventricular pressure of rat heart in a Langendorff preparation with 50% inhibition occurring at a concentration of 0.3 nmol/L. 5. We conclude that chebulinic acid exerts non-specific inhibitory actions in vascular preparations. Its inhibitory effect on cardiac contraction was reversible and three orders of magnitude more potent than that on vascular contraction.
CONCLUSIONS:
We suggest that the hypotensive effect of chebulinic acid is probably mediated via the decrease in cardiac output resulting from reduced left ventricular contraction.
Phytomedicine. 2013 Apr 15;20(6):506-11.
Anti-secretory and cyto-protective effects of chebulinic acid isolated from the fruits of Terminalia chebula on gastric ulcers.[Pubmed: 23462212]
In continuation of our drug discovery program on Indian medicinal plants, the gastro protective mechanism of chebulinic acid isolated from Terminalia chebula fruit was investigated.
METHODS AND RESULTS:
Chebulinic acid was evaluated against cold restraint (CRU), aspirin (AS), alcohol (AL) and pyloric ligation (PL) induced gastric ulcer models in rats. Potential anti-ulcer activity of chebulinic acid was observed against CRU (62.9%), AS (55.3%), AL (80.67%) and PL (66.63%) induced ulcer models. The reference drug omeprazole (10 mg/kg, p.o.) showed 77.73% protection against CRU, 58.30% against AS and 70.80% against PL model. Sucralfate, another reference drug (500 mg/kg, p.o.) showed 65.67% protection in AL induced ulcer model. Chebulinic acid significantly reduced free acidity (48.82%), total acidity (38.29%) and upregulated mucin secretion by 59.75% respectively.
CONCLUSIONS:
Further, chebulinic acid significantly inhibited H(+) K(+)-ATPase activity in vitro with IC50 of 65.01 μg/ml as compared to the IC50 value of omeprazole (30.24 μg/ml) confirming its anti-secretory activity.
| | | | | | |
| --- | --- | --- | --- | --- | --- |
| | 1 mg | 5 mg | 10 mg | 20 mg | 25 mg |
| 1 mM | 1.0453 mL | 5.2263 mL | 10.4526 mL | 20.9052 mL | 26.1315 mL |
| 5 mM | 0.2091 mL | 1.0453 mL | 2.0905 mL | 4.181 mL | 5.2263 mL |
| 10 mM | 0.1045 mL | 0.5226 mL | 1.0453 mL | 2.0905 mL | 2.6131 mL |
| 50 mM | 0.0209 mL | 0.1045 mL | 0.2091 mL | 0.4181 mL | 0.5226 mL |
| 100 mM | 0.0105 mL | 0.0523 mL | 0.1045 mL | 0.2091 mL | 0.2613 mL |
* Note:
If you are in the process of experiment, it's need to make the dilution ratios of the samples. The dilution data of the sheet for your reference. Normally, it's can get a better solubility within lower of Concentrations.
部分图片展示
| | | | | | |
| --- | --- | --- | --- | --- | --- |
| 产品名称 | 产品编号 | CAS编号 | 分子式 = 分子量 | 位单 | 联系QQ |
| 1,2,3,6-四-O-没食子酰-β-D-葡萄糖; 1,2,3,6-Tetragalloylglucose | CFN00447 | 79886-50-3 | C34H28O22 = 788.57 | 5mg | QQ客服:3257982914 |
| 1,3,6-三没食子酰葡萄糖; 1,3,6-Tri-O-galloylglucose | CFN95043 | 18483-17-5 | C27H24O18 = 636.5 | 10mg | QQ客服:1457312923 |
| 葡萄糖没食子鞣苷; beta-Glucogallin | CFN70245 | 13405-60-2 | C13H16O10 = 332.3 | 5mg | QQ客服:2159513211 |
| 1-O-没食子酰-6-O-肉桂酰葡萄糖; 1-O-galloyl-6-O-cinnamoylglucose | CFN95053 | 115746-69-5 | C22H22O11 = 462.4 | 5mg | QQ客服:3257982914 |
| 2-肉桂酰-1-没食子酰葡萄糖; 2-Cinnamoyl-1-galloylglucose | CFN95098 | 56994-83-3 | C22H22O11 = 462.4 | 5mg | QQ客服:1457312923 |
| 1,2,3,4,6-五没食子酰葡萄糖; 1,2,3,4,6-O-Pentagalloylglucose | CFN90192 | 14937-32-7 | C41H32O26 = 940.68 | 20mg | QQ客服:2932563308 |
| 单宁酸; Tannic acid | CFN90501 | 1401-55-4 | C76H52O46 = 1701.2 | 20mg | QQ客服:2056216494 |
| 柯里拉京; Corilagin | CFN90176 | 23094-69-1 | C27H22O18 = 634.45 | 20mg | QQ客服:1413575084 |
| 诃子宁; Chebulanin | CFN92294 | 166833-80-3 | C27H24O19 = 652.5 | 5mg | QQ客服:3257982914 |
| Thonningianin A; Thonningianin A | CFN90633 | 271579-11-4 | C42H34O21 = 874.7 | 10mg | QQ客服:1457312923 |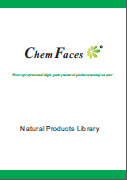 联系方式

电机:027-84237783
传真:027-84254680
在线QQ1: 2056216494 ; QQ2: 3257982914
E-Mail:manager@chemfaces.com

湖北省武汉沌口经济技术开区车城南路83号1号楼第三层厂房