镰叶芹二醇
Falcarindiol
| | | | | |
| --- | --- | --- | --- | --- |
| 产品名称 | 产品编号 | CAS编号 | 包装 | QQ客服 |
| 镰叶芹二醇 | CFN98220 | 225110-25-8 | 10mg | QQ客服:3257982914 |
| 镰叶芹二醇 | CFN98220 | 225110-25-8 | 20mg | QQ客服:3257982914 |
| 镰叶芹二醇 | CFN98220 | 225110-25-8 | 50mg | QQ客服:3257982914 |
| 镰叶芹二醇 | CFN98220 | 225110-25-8 | 100mg | QQ客服:3257982914 |
1. 在您收到产品后请检查产品。如无问题,请将产品存入冰霜并且样品瓶保持密封,产品可以存放长达24个月(2-8摄氏度)。

2. 只要有可能,产品溶解后,您应该在同一天应用于您的实验。 但是,如果您需要提前做预实验,或者需要全部溶解,我们建议您将溶液以等分试样的形式存放在-20℃的密封小瓶中。 通常,这些可用于长达两周。 使用前,打开样品瓶前,我们建议您将产品平衡至室温至少1小时。

3. 需要更多关于溶解度,使用和处理的建议? 请发送电子邮件至:service@chemfaces.com
订购流程
1. 在线订购
请联系我们QQ客服


2. 电话订购
请拨打电话:
027-84237683 或 027-84237783


3. 邮件或传真订购
发送电子邮件到: manager@chemfaces.com 或
发送传真到:027-84254680


提供订购信息
为了方便客户的订购,请需要订购ChemFaces产品的客户,在下单的时候请提供下列信息,以供我们快速为您建立发货信息。
1. 产品编号(CAS No.或产品名称)
2. 发货地址
3. 联系方法 (联系人,电话)
4. 开票抬头 (如果需要发票的客户)
5. 发票地址(发货地址与发票地址不同)
发货时间
1. 付款方式为100%预付款客户,我们将在确认收到货款后当天或1-3个工作日发货。

2. 付款方式为月结的客户,我们承诺在收到订单后当天或1-3个工作日内发货。

3. 如果客户所需要的产品,需要重新生产,我们有权告知客户,交货时间需要延期。
ChemFaces的产品在许多优秀和顶级科学期刊中被引用
我们的产品现已经出口到下面的研究机构与大学,并且还在增涨
Sri Ramachandra University (India)
Heinrich-Heine-University Düsseldorf (Germany)
Shanghai Institute of Biochemistry and Cell Biology (China)
University of Queensland (Australia)
Instituto de Investigaciones Agropecuarias (Chile)
Universidade do Porto (Portugal)
The University of Newcastle (Australia)
University of South Australia (Australia)
Melbourne University (Australia)
University of Illinois (USA)
Research Unit Molecular Epigenetics (MEG) (Germany)
Utrecht University (Netherlands)
Max Rubner-Institut (MRI) (Germany)
Copenhagen University (Denmark)
国外学术期刊发表的引用ChemFaces产品的部分文献
Description:
Falcarindiol has antimutagenic, neuroprotective, antifungal, anti-bacterial, and anticancer activities, it could be potentially used in food manufactures and cosmetology as preservative agents and biopesticides, or in medicine as new antibiotics. Falcarindiol has protective effects against CCl(4) toxicity, in part, the effects might be explained by anti-lipid peroxidation activity associated with the induction of the GSTs including GSTA4.
Targets:
GSK-3 | NO | NOS | NADPH-oxidase | P450 (e.g. CYP17)
In vitro:

Cell Death Dis. 2012 Aug 23;3:e376.
The antitumor natural compound falcarindiol promotes cancer cell death by inducing endoplasmic reticulum stress.[Pubmed: 22914324 ]
Falcarindiol (FAD) is a natural polyyne with various beneficial biological activities.
METHODS AND RESULTS:
We show here that FAD preferentially kills colon cancer cells but not normal colon epithelial cells. Furthermore, FAD inhibits tumor growth in a xenograft tumor model and exhibits strong synergistic killing of cancer cells with 5-fluorouracil, an approved cancer chemotherapeutic drug. We demonstrate that FAD-induced cell death is mediated by induction of endoplasmic reticulum (ER) stress and activation of the unfolded protein response (UPR). Decreasing the level of ER stress, either by overexpressing the ER chaperone protein glucose-regulated protein 78 (GRP78) or by knockout of components of the UPR pathway, reduces FAD-induced apoptosis. In contrast, increasing the level of ER stress by knocking down GRP78 potentiates FAD-induced apoptosis. Finally, FAD-induced ER stress and apoptosis is correlated with the accumulation of ubiquitinated proteins, suggesting that FAD functions at least in part by interfering with proteasome function, leading to the accumulation of unfolded protein and induction of ER stress. Consistent with this, inhibition of protein synthesis by cycloheximide significantly decreases the accumulation of ubiquitinated proteins and blocks FAD-induced ER stress and cell death.
CONCLUSIONS:
Taken together, our study shows that FAD is a potential new anticancer agent that exerts its activity through inducing ER stress and apoptosis.
J. Agr. Food Chem., 1996, 44(11): 3444-8.
Antimutagenic activity of falcarindiol from Peucedanum praeruptorum.[Reference: WebLink]
A methanol extract from Peucedanum praeruptorum showed a suppressive effect on umu gene expression of the SOS response in Salmonella typhimurium TA1535/pSK1002 against the mutagen 2-(2-furyl)-3-(5-nitro-2-furyl)acrylamide (furylfuramide).
METHODS AND RESULTS:
The methanol extract from P. praeruptorum was re-extracted with hexane, dichloromethane, n-butanol, and water, respectively. A suppressive compound in the hexane extract fraction was isolated by SiO2 column chromatography and identified as falcarindiol by EI-MS, IR, and 1H and 13C NMR spectroscopy. Falcarindiol exhibited an inhibition of the SOS-inducing activity of furylfuramide in the umu test. Gene expression was suppressed 75% at less than 0.15 μmol/mL, and the ID50 value was 0.10 μmol/mL. The diacetate compound of falcarindiol did not show any suppressive effect on the SOS induction of furylfuramide. Falcarindiol was also assayed with the mutagen 3-amino-1,4-dimethyl-5H-pyrido[4,3-b]indole (Trp-P-1), which requires liver-metabolizing enzymes, and showed a suppressive effect similar to that with furylfuramide. The falcarindiol ID50 value versus Trp-P-1 was 0.096 μmol/mL.
CONCLUSIONS:
The antimutagenic activities of falcarindiol and falcarindiol diacetate against furylfuramide and Trp-P-1 were tested by an Ames test using S. typhimurium TA100, which indicated that falcarindiol suppressed the mutagenicity of furylfuramide and Trp-P-1 and falcarindiol diacetate suppressed the mutagenicity of Trp-P-1.
Planta Med., 1988, 54(1):36-7.
Isolation of the Antifungal Compounds Falcarindiol and Sarisan from Heteromorpha trifoliata[Reference: WebLink]
Leaves of Heteromorpha trifoliata (Umbelliferae) furnished the antifungal compounds falcarindiol and sarisan after flash and low-pressure liquid chromatographies.

In vivo:

J Agric Food Chem. 2013 Aug 7;61(31):7515-21.
Inhibition of glycogen synthase kinase-3β by falcarindiol isolated from Japanese Parsley (Oenanthe javanica).[Pubmed: 23895038]

METHODS AND RESULTS:
A new biological activity of falcarindiol isolated from Japanese parsley (Oenanthe javanica) using the mutant yeast YNS17 strain (zds1Δ erg3Δ pdr1Δ pdr3Δ) was discovered as an inhibitor of glycogen synthase kinase-3β (GSK-3β). Falcarindiol inhibited GSK-3β in an ATP noncompetitive manner with a Ki value of 86.9 μM using a human enzyme and luminescent kinase assay platform. Falcarindiol also both suppressed gene expression of glucose-6-phosphatase (G6Pase) in rat hepatoma H4IIE cells and protected mouse neuroblastoma HT22 cells from glutamate-induced oxidative cell death at 10 μM. During an oral glucose tolerance test (OGTT), the blood glucose level was significantly decreased in the rats treated with oral administration of O. javanica extract containing falcarindiol (15 mg/kg).
CONCLUSIONS:
These findings indicate that Japanese parsley could be a useful food ingredient against type-2 diabetes and Alzheimer's disease.
Biol Pharm Bull. 2011;34(3):371-8.
Dietary diacetylene falcarindiol induces phase 2 drug-metabolizing enzymes and blocks carbon tetrachloride-induced hepatotoxicity in mice through suppression of lipid peroxidation.[Pubmed: 21372387]
Falcarindiol is a diacetylenic natural product containing unique carbon-carbon triple bonds.
METHODS AND RESULTS:
Mice were orally administrated falcarindiol (100 mg/kg), and drug-metabolizing and antioxidant enzymes were monitored in several tissues of mice. Treatment with falcarindiol was found to increase glutathione S-transferase (GST) and NAD(P)H: quinone oxidoreductase 1 activities in liver, small intestine, kidney, and lung. No changes were observed in cytochrome P450 (CYP) 1A known to activate procarcinogens. Western blot analysis revealed that various GST subunits including GSTA4, which plays an important role in the detoxification of alkenals produced from lipid peroxides, were induced in liver, small intestine, and kidney of falcarindiol-treated mice. Additionally, we investigated the protective effects of falcarindiol against hepatotoxicity induced by carbon tetrachloride (CCl(4)) and the mechanism of its hepatoprotective effect. Pretreatment with falcarindiol prior to the administration of CCl(4) significantly suppressed both an increase in serum alanine transaminase/aspartate transaminase (ALT/AST) activity and an increase in hepatic thiobarbituric acid reactive substance levels without affecting CCl(4)-mediated degradation of CYP2E1. Formation of hexanoyl-lysine and 4-hydroxy-2(E)-nonenal-histidine adducts, lipid peroxidation biomarkers, in homogenates from the liver of CCl(4)-treated mice was decreased in the group of mice pretreated with falcarindiol.
CONCLUSIONS:
These results suggest that the protective effects of falcarindiol against CCl(4) toxicity might, in part, be explained by anti-lipid peroxidation activity associated with the induction of the GSTs including GSTA4.
| | | | | | |
| --- | --- | --- | --- | --- | --- |
| | 1 mg | 5 mg | 10 mg | 20 mg | 25 mg |
| 1 mM | 3.8402 mL | 19.2012 mL | 38.4025 mL | 76.8049 mL | 96.0061 mL |
| 5 mM | 0.768 mL | 3.8402 mL | 7.6805 mL | 15.361 mL | 19.2012 mL |
| 10 mM | 0.384 mL | 1.9201 mL | 3.8402 mL | 7.6805 mL | 9.6006 mL |
| 50 mM | 0.0768 mL | 0.384 mL | 0.768 mL | 1.5361 mL | 1.9201 mL |
| 100 mM | 0.0384 mL | 0.192 mL | 0.384 mL | 0.768 mL | 0.9601 mL |
* Note:
If you are in the process of experiment, it's need to make the dilution ratios of the samples. The dilution data of the sheet for your reference. Normally, it's can get a better solubility within lower of Concentrations.
部分图片展示
| | | | | | |
| --- | --- | --- | --- | --- | --- |
| 产品名称 | 产品编号 | CAS编号 | 分子式 = 分子量 | 位单 | 联系QQ |
| 9,17-十八碳二烯-12,14-二炔-1,11,16-三醇; 9,17-Octadecadiene-12,14-diyne-1,11,16-triol | CFN98061 | 211238-60-7 | C18H26O3 = 290.4 | 5mg | QQ客服:2159513211 |
| 1-乙酰氧基-9,17-十八碳二烯-12,14-二炔-11,16-二醇; 1-Acetoxy-9,17-octadecadiene-12,14-diyne-11,16-diol | CFN98068 | 213905-35-2 | C20H28O4 = 332.4 | 5mg | QQ客服:1457312923 |
| 人参炔醇; Panaxynol | CFN93212 | 81203-57-8 | C17H24O = 244.4 | 5mg | QQ客服:2932563308 |
| 镰叶芹二醇; Falcarindiol | CFN98220 | 225110-25-8 | C17H24O2 = 260.4 | 20mg | QQ客服:2932563308 |
| 镰叶芹醇; Falcarinol | CFN96027 | 21852-80-2 | C17H24O = 244.4 | 5mg | QQ客服:1413575084 |
| 人参炔K; Ginsenoyne K | CFN96044 | 141947-42-4 | C17H24O3 = 276.4 | 5mg | QQ客服:2159513211 |
| 党参炔醇; Lobetyol | CFN92356 | 136171-87-4 | C14H18O3 = 234.3 | 5mg | QQ客服:1413575084 |
| 党参炔苷; Lobetyolin | CFN99104 | 136085-37-5 | C20H28O8 = 396.43 | 20mg | QQ客服:2056216494 |
| Lobetyolinin; Lobetyolinin | CFN92357 | 142451-48-7 | C26H38O13 = 558.6 | 5mg | QQ客服:2159513211 |
| (3E,5E,11E)-tridecatriene-7,9-diyne-1,2-diacetate; (3E,5E,11E)-tridecatriene-7,9-diyne-1,2-diacetate | CFN95191 | N/A | C17H18O4 = 286.3 | 5mg | QQ客服:2056216494 |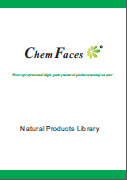 联系方式

电机:027-84237783
传真:027-84254680
在线QQ1: 2056216494 ; QQ2: 3257982914
E-Mail:manager@chemfaces.com

湖北省武汉沌口经济技术开区车城南路83号1号楼第三层厂房