大豆苷
Daidzin
| | | | | |
| --- | --- | --- | --- | --- |
| 产品名称 | 产品编号 | CAS编号 | 包装 | QQ客服 |
| 大豆苷 | CFN99101 | 552-66-9 | 10mg | QQ客服:3257982914 |
| 大豆苷 | CFN99101 | 552-66-9 | 20mg | QQ客服:3257982914 |
| 大豆苷 | CFN99101 | 552-66-9 | 50mg | QQ客服:3257982914 |
| 大豆苷 | CFN99101 | 552-66-9 | 100mg | QQ客服:3257982914 |
1. 在您收到产品后请检查产品。如无问题,请将产品存入冰霜并且样品瓶保持密封,产品可以存放长达24个月(2-8摄氏度)。

2. 只要有可能,产品溶解后,您应该在同一天应用于您的实验。 但是,如果您需要提前做预实验,或者需要全部溶解,我们建议您将溶液以等分试样的形式存放在-20℃的密封小瓶中。 通常,这些可用于长达两周。 使用前,打开样品瓶前,我们建议您将产品平衡至室温至少1小时。

3. 需要更多关于溶解度,使用和处理的建议? 请发送电子邮件至:service@chemfaces.com
订购流程
1. 在线订购
请联系我们QQ客服


2. 电话订购
请拨打电话:
027-84237683 或 027-84237783


3. 邮件或传真订购
发送电子邮件到: manager@chemfaces.com 或
发送传真到:027-84254680


提供订购信息
为了方便客户的订购,请需要订购ChemFaces产品的客户,在下单的时候请提供下列信息,以供我们快速为您建立发货信息。
1. 产品编号(CAS No.或产品名称)
2. 发货地址
3. 联系方法 (联系人,电话)
4. 开票抬头 (如果需要发票的客户)
5. 发票地址(发货地址与发票地址不同)
发货时间
1. 付款方式为100%预付款客户,我们将在确认收到货款后当天或1-3个工作日发货。

2. 付款方式为月结的客户,我们承诺在收到订单后当天或1-3个工作日内发货。

3. 如果客户所需要的产品,需要重新生产,我们有权告知客户,交货时间需要延期。
ChemFaces的产品在许多优秀和顶级科学期刊中被引用
我们的产品现已经出口到下面的研究机构与大学,并且还在增涨
University of Limpopo (South Africa)
Ain Shams University (Egypt)
Universidade de Franca (Brazil)
Shanghai Institute of Organic Chemistry (China)
Charles University in Prague (Czech Republic)
Korea Institute of Oriental Medicine (Korea)
Georgia Institute of Technology (USA)
University of Toulouse (France)
Tokyo Woman's Christian University (Japan)
University of Ioannina (Greece)
National Chung Hsing University (Taiwan)
Semmelweis Unicersity (Hungary)
Srinakharinwirot University (Thailand)
Mahidol University (Thailand)
国外学术期刊发表的引用ChemFaces产品的部分文献
Description:
Daidzin is a potent, selective aldehyde dehydrogenase 2 (ALDH2,IC50 = 80 nM) inhibitor, which has antiallergic anti-oxidant, anti-carcinogenic, antithrombotic,and anti-atherosclerotic activities, It has preventive effect on bone loss in ovariectomized rats appears to be due to suppression of bone turnover. A mixture of daidzin and glycitin has anti-obese and anti-diabetic effects.
Targets:
IL Receptor | ALDH2
In vivo:

Biosci Biotechnol Biochem. 2015 Jan;79(1):117-23.
Anti-obese and anti-diabetic effects of a mixture of daidzin and glycitin on C57BL/6J mice fed with a high-fat diet.[Pubmed: 25209298]

METHODS AND RESULTS:
We investigated the effects of a mixture of daidzin and glycitin, which are the glycoside-form isoflavones of daidzein and glycitein, respectively, on body weight, lipid levels, diabetic markers, and metabolism in a high-fat diet (HF) fed C57BL/6J mice for 92 days. The mice were divided into basic diet group (CON), HF group, and HF companied with the isoflavone mixture group (HFISO). Results showed that mice in HFISO had a significantly lower body weight and adipose tissue compared to HF group. Blood glucose, serum HbA1c, and serum insulin also showed lower levels in HFISO group. In addition, higher hepatic GSH level and lower serum 8-hydroxy-2'-deoxyguanosine (8-OHdG) level were found in HFISO group mice.
CONCLUSIONS:
This suggests that the regulation of oxidative stress by daidzin and glycitin was closely related to the suppression of adipose tissue and the progression of diabetes.
J Hepatol. 2014 Dec 24. pii: S0168-8278(14)00943-X.
Pharmacological activation of aldehyde dehydrogenase 2 by Alda-1 reverses alcohol-induced hepatic steatosis and cell death in mice.[Pubmed: 25543082]
Effective therapies for alcoholic liver disease are currently unavailable. The present study tested the efficacy of Alda-1, a specific aldehyde dehydrogenase 2 (ALDH2) activator, in treating alcoholic liver disease.
METHODS AND RESULTS:
Male C57BL/6J mice were exposed to alcohol for a time-course study on aldehyde metabolism. The specificity and efficacy of Alda-1 on activating hepatic ALDH2 and aldehyde clearance were determined by acute treatments. Then, mice were fed alcohol for 8 weeks with Alda-1 administration for the last 10 days to test the therapeutic potential of Alda-1. Lastly, H4IIEC3 cells were treated with ethanol, acetaldehyde, or 4-hydroxynonenal to define the link between aldehydes and hepatotoxicity. Alcohol feeding for 8 weeks induced hepatic ALDH2 dysfunction and aldehyde accumulation. One dose of Alda-1 administration elevated hepatic ALDH activity, which was blocked by the specific ALDH2 inhibitor, daidzin. Alda-1 accelerated acetaldehyde clearance after acute alcohol intoxication. Alda-1 treatment in the 8-week alcohol feeding model reversed liver damage along with reduction of hepatic aldehydes. Alda-1 re-activated transcription factors, upregulated fatty acid oxidation enzymes, and reversed steatosis. Alcohol-induced endoplasmic reticulum stress and apoptotic cell death were also attenuated by Alda-1. Acetaldehyde or 4-hydroxynonenal treatment to H4IIEC3 cells inactivated transcription factors and induced endoplasmic reticulum stress and apoptosis, while ethanol per se showed limited effects.
CONCLUSIONS:
Pharmacological activation of ALDH2 by Alda-1 reversed alcoholic steatosis and apoptosis through accelerating aldehyde clearance. This study indicates that ALDH2 is a promising molecular target and Alda-1 has therapeutic potential for treating alcoholic liver disease.
Biol Pharm Bull. 2002 Oct;25(10):1328-32.
Antithrombotic and antiallergic activities of daidzein, a metabolite of puerarin and daidzin produced by human intestinal microflora.[Pubmed: 12392089]
To evaluate the antithrombotic activities of puerarin and daidzin from the rhizome of Pueraria lobata, in vitro and ex vivo inhibitory activities of these compounds and their metabolite, daidzein, were measured. These compounds inhibited ADP- and collagen-induced platelet aggregation. Daidzein was the most potent. However, when puerarin and daidzin were intraperitoneally administered, their antiaggregation activities were weaker than when these compounds were administered orally. When in vivo antithrombotic activities of these compounds against collagen and epinephrine were measured, these compounds showed significant protection from death due to pulmonary thrombosis in mice.
METHODS AND RESULTS:
To evaluate the antiallergic activity of puerarin, daidzin, and daidzein, their inhibitory effects on the release of beta-hexosaminidase from RBL 2H3 cells and on the passive cutaneous anaphylaxis (PCA) reaction in mice were examined. Daidzein exhibited potent inhibitory activity on the beta-hexosaminidase release induced by DNP-BSA and potently inhibited the PCA reaction in rats. Daidzein administered intraperitoneally showed the strongest inhibitory activity and significantly inhibited the PCA reaction at doses of 25 and 50mg/kg with inhibitory activity of 37 and 73%, respectively. The inhibitory activity of intraperitoneally administered daidzein was stronger than those of intraperitoneally and orally administered puerarin and daidzin.
CONCLUSIONS:
Therefore we believe that puerarin and daidzin in the rhizome of Pueraria lobata are prodrugs, which have antiallergic and antithrombotic activities, produced by intestinal microflora.
| | | | | | |
| --- | --- | --- | --- | --- | --- |
| | 1 mg | 5 mg | 10 mg | 20 mg | 25 mg |
| 1 mM | 2.4017 mL | 12.0083 mL | 24.0165 mL | 48.033 mL | 60.0413 mL |
| 5 mM | 0.4803 mL | 2.4017 mL | 4.8033 mL | 9.6066 mL | 12.0083 mL |
| 10 mM | 0.2402 mL | 1.2008 mL | 2.4017 mL | 4.8033 mL | 6.0041 mL |
| 50 mM | 0.048 mL | 0.2402 mL | 0.4803 mL | 0.9607 mL | 1.2008 mL |
| 100 mM | 0.024 mL | 0.1201 mL | 0.2402 mL | 0.4803 mL | 0.6004 mL |
* Note:
If you are in the process of experiment, it's need to make the dilution ratios of the samples. The dilution data of the sheet for your reference. Normally, it's can get a better solubility within lower of Concentrations.
部分图片展示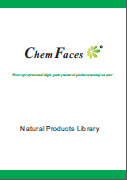 联系方式

电机:027-84237783
传真:027-84254680
在线QQ: 215959384
E-Mail:manager@chemfaces.com

湖北省武汉沌口经济技术开区车城南路83号1号楼第三层厂房