4-羟基肉桂酰胺
4-Hydroxycinnamamide
产品编号
CFN99895
CAS编号
194940-15-3
分子式 = 分子量
C9H9NO2 = 163.2
产品纯度
>=98%
物理属性
Powder
化合物类型
Phenylpropanoids
植物来源
The herbs of Berberis pruinosa.
ChemFaces的产品在影响因子大于5的优秀和顶级科学期刊中被引用
| | | | | |
| --- | --- | --- | --- | --- |
| 产品名称 | 产品编号 | CAS编号 | 包装 | QQ客服 |
| 4-羟基肉桂酰胺 | CFN99895 | 194940-15-3 | 1mg | QQ客服:2159513211 |
| 4-羟基肉桂酰胺 | CFN99895 | 194940-15-3 | 5mg | QQ客服:2159513211 |
| 4-羟基肉桂酰胺 | CFN99895 | 194940-15-3 | 10mg | QQ客服:2159513211 |
| 4-羟基肉桂酰胺 | CFN99895 | 194940-15-3 | 20mg | QQ客服:2159513211 |
1. 在您收到产品后请检查产品。如无问题,请将产品存入冰霜并且样品瓶保持密封,产品可以存放长达24个月(2-8摄氏度)。

2. 只要有可能,产品溶解后,您应该在同一天应用于您的实验。 但是,如果您需要提前做预实验,或者需要全部溶解,我们建议您将溶液以等分试样的形式存放在-20℃的密封小瓶中。 通常,这些可用于长达两周。 使用前,打开样品瓶前,我们建议您将产品平衡至室温至少1小时。

3. 需要更多关于溶解度,使用和处理的建议? 请发送电子邮件至:service@chemfaces.com
订购流程
1. 在线订购
请联系我们QQ客服


2. 电话订购
请拨打电话:
027-84237683 或 027-84237783


3. 邮件或传真订购
发送电子邮件到: manager@chemfaces.com 或
发送传真到:027-84254680


提供订购信息
为了方便客户的订购,请需要订购ChemFaces产品的客户,在下单的时候请提供下列信息,以供我们快速为您建立发货信息。
1. 产品编号(CAS No.或产品名称)
2. 发货地址
3. 联系方法 (联系人,电话)
4. 开票抬头 (如果需要发票的客户)
5. 发票地址(发货地址与发票地址不同)
发货时间
1. 付款方式为100%预付款客户,我们将在确认收到货款后当天或1-3个工作日发货。

2. 付款方式为月结的客户,我们承诺在收到订单后当天或1-3个工作日内发货。

3. 如果客户所需要的产品,需要重新生产,我们有权告知客户,交货时间需要延期。
ChemFaces的产品在许多优秀和顶级科学期刊中被引用
我们的产品现已经出口到下面的研究机构与大学,并且还在增涨
Instituto de Investigaciones Agropecuarias (Chile)
FORTH-IMBB (Greece)
Universidade da Beira Interior (Germany)
University of Auckland (New Zealand)
Universitas islam negeri Jakarta (Indonesia)
Chungnam National University (Korea)
Kyung Hee University (Korea)
University of Padjajaran (Indonesia)
Centralised Purchases Unit (CPU), B.I.T.S (India)
University of Illinois (USA)
University of Dicle (Turkey)
University of Helsinki (Finland)
Centrum Menselijke Erfelijkheid (Belgium)
Semmelweis Unicersity (Hungary)
国外学术期刊发表的引用ChemFaces产品的部分文献
Description:
4-Hydroxycinnamamide has antioxidant activity. 4-Hydroxycinnamamide derivatives are specific inhibitors of tyrosine-specific protein kinases.
Targets:
EGFR | Calcium Channel | Sodium Channel | ATPase | Potassium Channel | AMPK | p38MAPK
In vitro:

Cancer Res. 1989 May 1;49(9):2374-8.
Specific inhibitors of tyrosine-specific protein kinases: properties of 4-hydroxycinnamamide derivatives in vitro.[Pubmed: 2706625]

METHODS AND RESULTS:
Inhibition by seven synthetic 4-Hydroxycinnamamide derivatives, ST 271, ST 280, ST 458, ST 494, ST 633, ST 638, and ST 642, of tyrosine-specific protein kinases (tyrosine kinase) of oncogene or proto-oncogene products (p130gag-v-fps, p70gag-actin-v-fgr, pp60v-src, pp60c-src) and epidermal growth factor (EGF) receptor kinase were investigated. ST 638 (alpha-cyano-3-ethoxy-4-hydroxy-5-phenylthiomethylcinnamamide) strongly inhibited more of the tyrosine kinases than any of the other compounds. The susceptibilities of these tyrosine kinases to ST 638 increased in the following order: EGF receptor greater than p70gag-actin-v-fgr greater than pp60c-src greater than p130gag-v-fps, pp60v-src, with 50% inhibitory concentration values of 1.1, 4.2, 18, 70, and 87 microM, respectively. The phosphorylation of the tyrosine residues in particulate fractions from RR1022 cells expressing pp60v-src was inhibited by ST 638 in a dose-dependent way, while it had a negligible effect on the phosphorylations of threonine and serine residues. Kinetic analysis showed that ST 638 competitively inhibited the phosphorylation of an exogenous substrate by the EGF receptor kinase with a Ki of 2.1 microM. ST 638 noncompetitively inhibited autophosphorylation by EGF receptor kinase.
CONCLUSIONS:
These results indicate that ST 638 is a potent and specific inhibitor of tyrosine kinases in vitro, and that its inhibitory activity is caused by competing with the substrate protein for the tyrosine kinase binding site.
Eur J Med Chem. 2015 Jan 7;89:628-37.
Development of 3-hydroxycinnamamide-based HDAC inhibitors with potent in vitro and in vivo anti-tumor activity.[Pubmed: 25462271]
Inhibition of histone deacetylases (HDACs) has diverse effects on cell function, such as causing differentiation, growth arrest and apoptosis in nearly all types of tumor cell lines.
METHODS AND RESULTS:
In our previous work, we have designed and synthesized a novel series of 4-Hydroxycinnamamide-based and 3-hydroxycinnamamide-based HDAC inhibitors (HDACIs), among which, 3-hydroxycinnamamide-based HDACIs 1a-1c exhibited moderate inhibition against HDACs. In this article, we report the development of a more potent class of 3-hydroxycinnamamide-based HDACIs, compound 7o exhibited much higher pan-HDAC inhibitory activity than positive control SAHA. In addition, compound 7h showed excellent in vitro growth inhibitory activity against more than ten cell lines and induced U937 cells apoptosis in micromolar concentration.
CONCLUSIONS:
In vivo assay in U937 xenograft model identified compound 7h as a potent, orally active HDACI.
Bioorg Med Chem Lett. 2002 Sep 16;12(18):2599-602.
Synthesis and evaluation of 4-hydroxyphenylacetic acid amides and 4-hydroxycinnamamides as antioxidants.[Pubmed: 12182869]
4-Hydroxyphenylacetic acid amides and 4-Hydroxycinnamamides were synthesized and their antioxidant and neuroprotective activities were evaluated.
METHODS AND RESULTS:
Among the prepared compounds, 8b, and exhibited potent inhibition of lipid peroxidation in rat brain homogenates, and marked DPPH radical scavenging activities. Furthermore, and exhibited neuroprotective action against the oxidative damage induced by the exposure of primary cultured rat cortical cells to H(2)O(2), xanthine/xanthine oxidase, or Fe(2+)/ascorbic acid.
CONCLUSIONS:
Based on these results, we found that was the most potent antioxidant among the compounds tested.
| | | | | | |
| --- | --- | --- | --- | --- | --- |
| | 1 mg | 5 mg | 10 mg | 20 mg | 25 mg |
| 1 mM | 6.1275 mL | 30.6373 mL | 61.2745 mL | 122.549 mL | 153.1863 mL |
| 5 mM | 1.2255 mL | 6.1275 mL | 12.2549 mL | 24.5098 mL | 30.6373 mL |
| 10 mM | 0.6127 mL | 3.0637 mL | 6.1275 mL | 12.2549 mL | 15.3186 mL |
| 50 mM | 0.1225 mL | 0.6127 mL | 1.2255 mL | 2.451 mL | 3.0637 mL |
| 100 mM | 0.0613 mL | 0.3064 mL | 0.6127 mL | 1.2255 mL | 1.5319 mL |
* Note:
If you are in the process of experiment, it's need to make the dilution ratios of the samples. The dilution data of the sheet for your reference. Normally, it's can get a better solubility within lower of Concentrations.
部分图片展示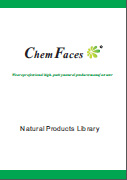 联系方式

电机:027-84237783
传真:027-84254680
在线QQ: 1413575084
E-Mail:manager@chemfaces.com

湖北省武汉沌口经济技术开区车城南路83号1号楼第三层厂房