异地芰普内酯
Isololiolide
产品编号
CFN95106
CAS编号
38274-00-9
分子式 = 分子量
C11H16O3 = 196.2
产品纯度
>=98%
物理属性
Oil
化合物类型
Monoterpenoids
植物来源
The leaves of Eucommia ulmoides Oliver
ChemFaces的产品在影响因子大于5的优秀和顶级科学期刊中被引用
| | | | | |
| --- | --- | --- | --- | --- |
| 产品名称 | 产品编号 | CAS编号 | 包装 | QQ客服 |
| 异地芰普内酯 | CFN95106 | 38274-00-9 | 1mg | QQ客服:2932563308 |
| 异地芰普内酯 | CFN95106 | 38274-00-9 | 5mg | QQ客服:2932563308 |
| 异地芰普内酯 | CFN95106 | 38274-00-9 | 10mg | QQ客服:2932563308 |
| 异地芰普内酯 | CFN95106 | 38274-00-9 | 20mg | QQ客服:2932563308 |
1. 在您收到产品后请检查产品。如无问题,请将产品存入冰霜并且样品瓶保持密封,产品可以存放长达24个月(2-8摄氏度)。

2. 只要有可能,产品溶解后,您应该在同一天应用于您的实验。 但是,如果您需要提前做预实验,或者需要全部溶解,我们建议您将溶液以等分试样的形式存放在-20℃的密封小瓶中。 通常,这些可用于长达两周。 使用前,打开样品瓶前,我们建议您将产品平衡至室温至少1小时。

3. 需要更多关于溶解度,使用和处理的建议? 请发送电子邮件至:service@chemfaces.com
订购流程
1. 在线订购
请联系我们QQ客服


2. 电话订购
请拨打电话:
027-84237683 或 027-84237783


3. 邮件或传真订购
发送电子邮件到: manager@chemfaces.com 或
发送传真到:027-84254680


提供订购信息
为了方便客户的订购,请需要订购ChemFaces产品的客户,在下单的时候请提供下列信息,以供我们快速为您建立发货信息。
1. 产品编号(CAS No.或产品名称)
2. 发货地址
3. 联系方法 (联系人,电话)
4. 开票抬头 (如果需要发票的客户)
5. 发票地址(发货地址与发票地址不同)
发货时间
1. 付款方式为100%预付款客户,我们将在确认收到货款后当天或1-3个工作日发货。

2. 付款方式为月结的客户,我们承诺在收到订单后当天或1-3个工作日内发货。

3. 如果客户所需要的产品,需要重新生产,我们有权告知客户,交货时间需要延期。
ChemFaces的产品在许多优秀和顶级科学期刊中被引用
我们的产品现已经出口到下面的研究机构与大学,并且还在增涨
University of East Anglia (United Kingdom)
University of Amsterdam (Netherlands)
Heidelberg University (Germany)
University Medical Center Mainz (Germany)
Korea Intitute of Science and Technology (KIST) (Korea)
Universidad de Antioquia (Colombia)
University of South Australia (Australia)
Universidad Veracuzana (Mexico)
Deutsches Krebsforschungszentrum (Germany)
Utah State University (USA)
Imperial College London (United Kingdom)
Subang Jaya Medical Centre (Malaysia)
University of Cincinnati (USA)
University of Eastern Finland (Finland)
国外学术期刊发表的引用ChemFaces产品的部分文献
Description:
Isololiolide has phytotoxicity, it inhibited seedling growth of cress and barnyard grass. It also showed in vitro activity against both trypomastigote and intracellular amastigotes of Trypanosoma cruzi, with IC50 values of 32 µM and 40 µM, respectively. Isololiolide is an antioxidant response element (ARE) inducer, it has anti-inflammatory activity. It can exert a selective cytotoxic activity on hepatocarcinoma HepG2 cells as well as induce apoptosis through the modulation of apoptosis-related proteins.
Targets:
Antifection
In vitro:

Journal of Plant Biology, 2017, 60(1):75-81.
Isolation and identification of two potential phytotoxic substances from the aquatic fern Marsilea crenata.[Reference: WebLink]
Organic agriculture emphasized using of biologically originated herbicides and phytotoxic substances are being considered as a replacement to chemical herbicides. Marsilea crenata is an aquatic perennial fern distributed in the South-East Asian countries and is well known for various biological properties. However, to date, there has been no report that addresses the phytotoxicity of Marsilea crenata.
METHODS AND RESULTS:
Therefore, we explored phytotoxic properties and phytotoxic substances from Marsilea crenata. An aqueous methanol extracts of Marsilea crenata showed inhibition on the seedling growth of cress, lettuce, alfalfa, barnyard grass, Italian ryegrass, and foxtail fescue. Inhibition increased with increasing extract concentration. The extract was purified by several chromatographic steps and two phytotoxic substances were isolated and identified by spectroscopic analysis as loliolide and isololiolide. At the concentration of 30 μM, loliolide and isololiolide inhibited seedling growth of cress and barnyard grass by 41.3 to 51.1%, and 58.15 to 87.5% of control seedlings, respectively. The concentrations required for 50% inhibition of cress and barnyard grass seedlings ranged from 32.1 to 128.5 μM for loliolide, 37.0 to 176.2 μM for isololiolide.
CONCLUSIONS:
These results suggest these compounds may be responsible for phytotoxic effects of Marsilea crenata extract and could be an important part of organic agriculture.
Bioorg Chem. 2019 Aug;89:103002.
Antitrypanosomal activity of isololiolide isolated from the marine hydroid Macrorhynchia philippina (Cnidaria, Hydrozoa).[Pubmed: 31136901 ]
Marine invertebrates are a rich source of small antiparasitic compounds. Among them, Macrorhynchia philippina is a chemically underexplored marine cnidarian.
METHODS AND RESULTS:
In the search for candidates against the neglected protozoan Chagas disease, we performed a bio-guided fractionation to obtain active compounds. The structural characterization of the active compound was determined using NMR analysis and MS and resulted in the isololiolide, a compound described for the first time in this species. It showed in vitro activity against both trypomastigote and intracellular amastigotes of Trypanosoma cruzi, with IC50 values of 32 µM and 40 µM, respectively, with no mammalian cytotoxicity (>200 µM). The lethal action was investigated in T. cruzi using different fluorophores to study: (i) mitochondrial membrane potential; (ii) plasma membrane potential and (iii) plasma membrane permeability.
CONCLUSIONS:
Our results demonstrated that isololiolide caused disruption of the plasma membrane integrity and a strong depolarization of the mitochondrial membrane potential, rapidly leading the parasite to death. Despite being considered a possible covalent inhibitor, safety in silico studies of isololiolide also considered neither mutagenic nor genotoxic potential. Additionally, isololiolide showed no resemblance to interference compounds (PAINS), and it succeeded in most filters for drug-likeness. Isololiolide is a promising candidate for future optimization against Chagas disease.
Cancer Prev Res (Phila). 2013 Sep;6(9):989-99.
Cultivated sea lettuce is a multiorgan protector from oxidative and inflammatory stress by enhancing the endogenous antioxidant defense system.[Pubmed: 24005795]
The health-promoting effects of seaweeds have been linked to antioxidant activity that may counteract cancer-causing oxidative stress-induced damage and inflammation.
METHODS AND RESULTS:
Although antioxidant activity is commonly associated with direct radical scavenging activity, an alternative way to increase the antioxidant status of a cell is to enhance the endogenous (phase II) defense system consisting of cytoprotective antioxidant enzymes, including NAD(P)H:quinone oxidoreductase 1 (NQO1). These enzymes are transcriptionally regulated by the antioxidant response element (ARE) via the transcription factor Nrf2. Extracts derived from cultivated Ulva sp., a green alga regarded as a marine vegetable (sea lettuce), potently activated the Nrf2-ARE pathway in IMR-32 neuroblastoma and LNCaP prostate cancer cells. RNA interference studies showed that Nrf2 and phosphoinositide 3-kinase (PI3K) are essential for the phase II response in IMR-32 cells. Activity-enriched fractions induced Nrf2 nuclear translocation and target gene transcription, and boosted the cellular glutathione level and therefore antioxidant status. A single-dose gavage feeding of Ulva-derived fractions increased Nqo1 transcript levels in various organs. Nqo1 induction spiked in different tissues, depending on the specific chemical composition of each administered fraction.
CONCLUSIONS:
We purified and characterized four ARE inducers in this extract, including loliolide (1), isololiolide (2), a megastigmen (3), and a novel chlorinated unsaturated aldehyde (4). The ARE-active fractions attenuated lipopolysaccharide-induced iNOS and Cox2 gene expression in macrophagic RAW264.7 cells, decreasing nitric oxide (NO) and prostaglandin E2 (PGE2) production, respectively. Nqo1 activity and NO production were abrogated in nrf2(-/-) mouse embryonic fibroblasts, providing a direct link between the induction of phase II response and anti-inflammatory activity.
| | | | | | |
| --- | --- | --- | --- | --- | --- |
| | 1 mg | 5 mg | 10 mg | 20 mg | 25 mg |
| 1 mM | 5.0968 mL | 25.4842 mL | 50.9684 mL | 101.9368 mL | 127.421 mL |
| 5 mM | 1.0194 mL | 5.0968 mL | 10.1937 mL | 20.3874 mL | 25.4842 mL |
| 10 mM | 0.5097 mL | 2.5484 mL | 5.0968 mL | 10.1937 mL | 12.7421 mL |
| 50 mM | 0.1019 mL | 0.5097 mL | 1.0194 mL | 2.0387 mL | 2.5484 mL |
| 100 mM | 0.051 mL | 0.2548 mL | 0.5097 mL | 1.0194 mL | 1.2742 mL |
* Note:
If you are in the process of experiment, it's need to make the dilution ratios of the samples. The dilution data of the sheet for your reference. Normally, it's can get a better solubility within lower of Concentrations.
部分图片展示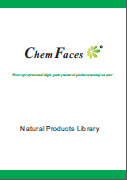 联系方式

电机:027-84237783
传真:027-84254680
在线QQ1: 2056216494 ; QQ2: 3257982914
E-Mail:manager@chemfaces.com

湖北省武汉沌口经济技术开区车城南路83号1号楼第三层厂房